Krispy Kreme Still Offering Free Donuts for Vaccinated Customers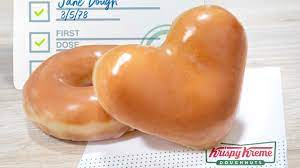 Who wants free donuts?
Krispy Kreme is still giving out free donuts.  From August 30 through September 5, Krispy Kreme offered free glazed donuts to people who are vaccinated. Instead of buying one donut, customers received two donuts just by showing their vaccination card.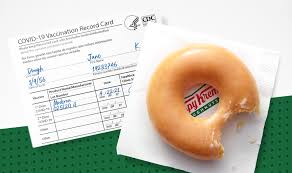 The Krispy Kreme CEO hopes this will motivate people to get vaccinated and help bring a quicker end to the pandemic. To those who are not vaccinated yet, Krispy Kreme Marketing Office Dave Skeme said in a statement, "Please consider getting vaccinated if you've not done so already." After that, they can enjoy two delicious donuts.
As cases spike up, companies and the U.S. government are trying to motivate citizens who are unvaccinated to get their first dose of the vaccine. Many municipal officials are offering residents $100 payments to get vaccinated. UCLA concluded from their recent survey that 33% of the people who are not vaccinated reported that extra cash will make them more likely to get vaccinated.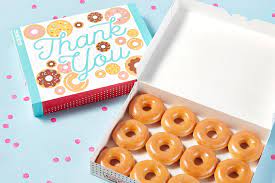 If you are vaccinated and haven't received your two free donuts, don't fret because you can still get one free glazed donut till the end of the year.
Krispy Kreme is also having another special occasion. Starting on September 21 through the 27, Krispy Kreme will give out one free dozen donuts for World Gratitude Day. All you have to do is gift wrap a dozen donuts to a friend or relative. After those dozen donuts are sent off to them, you will also get one dozen donuts for free in return. Just go to the Krispy Kreme website and use code "THANKS" to get a dozen for them and for you.

 So go to Krispy Kreme and get your donuts, because no one can say 'no' to that!