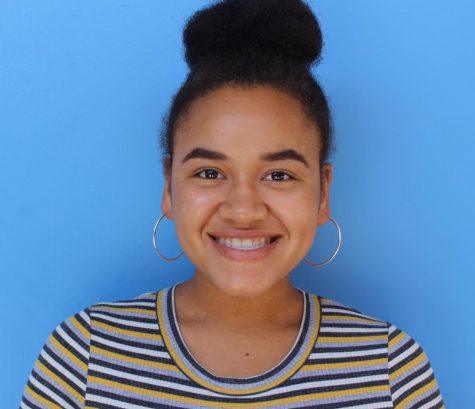 Jenessa Henderson is a 15 year old sophomore at Birmingham Community Charter High School. Since attending Birmingham, she has been working on her shyness. She is working on overcoming that by becoming more outgoing by joining clubs, and also being a part of the school's dance team. As a student, she is hardworking and cares about her academic wellbeing. Her favorite subjects are English and history, because she enjoys writing, literature, and learning about cultures. Her plans for the future are to attend a college or university away from home, and major in arts or sciences. In the future, Janessa plans on helping or inspiring people, in whatever form that may take.
She enjoys spending her free time with friends, because she believes that they are the best people to have in life. She loves many kinds of music, and her favorite artists are: Childish Gambino, Rihanna, Nicki Minaj, Amy Winehouse, and Queen. She loves film and television, and her favorites are:
The Wizard of Oz
,
Moonlight
,
American Crime Story
, and
Stranger Things
. When she's older, she wants to travel the world and visit places such as: London, Paris, Rome, Morocco, Guatemala, and Bangkok. She cares about the world and wants to be able to see all of it.
Her love for writing started in elementary school when she was chosen by her teachers to speak at public events. She loves writing in all genres, but especially enjoys writing about subject matters that are important to her. She keeps a journal, and likes to document moments in here life that are prevalent. She is grateful for the thrill that writing gives her and Jenessa is very happy to be a part of journalism at BCCHS.
Jenessa Henderson, Staff Writer
May 03, 2019

College Admissions Scandal: How the Elites Escape the System

(Story)

Mar 14, 2019

BSU at BCCHS Celebrates Black History Month

(Story)

Mar 12, 2019

America's Opioid Epidemic

(Story)

Jan 17, 2019

2018 Has Been Another Year of Horrific Gun Violence

(Story)

Oct 30, 2018

The Underwhelming 70th Annual Primetime Emmy Awards

(Story)

Oct 18, 2018

Meet Ms. Tracie Bowdoin–Birmingham's New Principal

(Story)