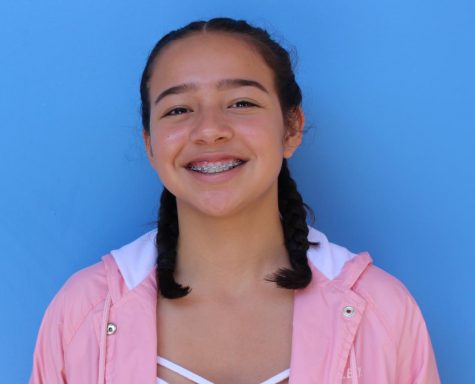 Sofia Lemus is a sophomore at Birmingham Community Charter High School. This is her first year at Birmingham. She spent her freshman year at Reseda High School and decided to move to Birmingham after her sister graduated. When Sofia is older, she would like to become a nurse. UCLA is her dream school because it has a really good nursing program.
She is very determined to get the grades she needs in order to get into the college she wants. Her best subject in school is English because she enjoys writing. She is currently waiting for club rush to see what clubs she would like to join. Sofia is hoping that the clubs she joins will look good on her college applications and also give her fun memories. She played softball and basketball  for Reseda High School last year but has decided that she wants to be more involved with clubs this year.
Sofia has three siblings and lives with her mom and her dad. She has an older sister, a younger sister, and a little brother. She is very close with her older sister and enjoys spending time with her family. She also has two dogs. Their names are Rambo and Ned. Rambo is a Pitt bull and Ned is a Pug. She has fun walking them around her neighborhood. She is nice, easy going, and a hard working person.
Sofia is very outgoing and enjoys meeting new people and making friendships. One of her favorite things to do is draw, which is something she has been doing since she was 11 years old. She also enjoys it because it allows her to express herself creatively, which is also one of the reasons she likes to write. Sofia is a very active person and enjoys working out with her older sister. She loves to listen to music and listens to a multitude of genres. She looks forward to the rest of her first year here at Birmingham Community Charter High School.
Sofia Lemus, Staff Writer
May 23, 2019

Finals Week: Dealing With Stress Successfully

(Story)

May 13, 2019

Massachusetts Law "Section 35" and What It Did to Sean Wallace

(Story)

Mar 28, 2019

Great Pacific Garbage Patch Is a Threat to the Planet

(Story)

Dec 07, 2018

Why Brett Kavanaugh Does Not Belong on the Supreme Court

(Story)

Nov 16, 2018

All BCCHS Freshmen Receive Chromebooks

(Story)