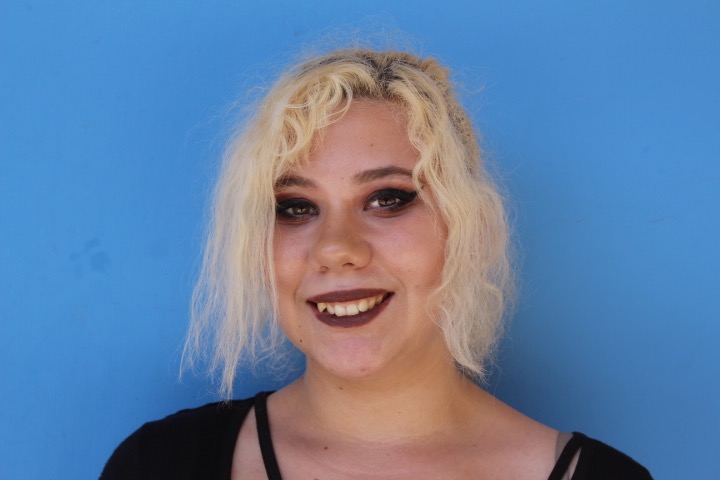 Debbie is a  junior 
at BCCHS. She is the Creative Arts Editor for The Patriot Post. As a student, she is very invested in her school work and cares about her academic wellbeing. She is in advanced theater, women's choir, and two AP classes. Her favorite subject is English because she loves reading and writing.  
Ever since middle school, she's wanted to be a writer of some sort because she loves to read and write. After high school, she plans to begin studying film and begin creating films as well as pursuing writing in some way.  
She is a happy, caring, helpful, and nice person. Always willing to give her best, Debbie is a hard worker and is very willing to try new things. She wants to travel to new places. She loves photography, nature and poetry.  Some of her hobbies include: making crafts, gardening, and doing things with her mom.
Besides having a love for cooking and baking,  Debbie has been an aide for a special education child care program and entered a film festival. She has a strong interest in the paranormal and forensics.
She has two older brothers and two younger brothers. She believes that family is a very important aspect of life. She enjoys going out with her mom.
Debbie loves nearly all music and loves musicals. She hopes to one day go to New York City to see Broadway shows. Finally, she hopes to one day have a career that will impact people in a positive way.
Debbie Lawhead, Creative Arts Editor
Jun 02, 2020

Teacher Appreciation Week–Our Journalism Advisor, Mr. Hughes!

(Story)

Apr 17, 2020

COVID-19 Has Added Stress to Students' Lives!

(Story)

Mar 28, 2020

100 Years of Women's Suffrage

(Story)

Feb 14, 2020

The Importance of Art Programs in Schools

(Story)

Oct 29, 2019

The Ever-changing "Perfect" Female Body

(Story)

Oct 10, 2019

Positively and Negatively Inspired by Columbine

(Story)

Oct 04, 2019

"Annie" Coming to the Birmingham Stage this November!

(Story)

Apr 10, 2019

The Disastrous Impacts of Global Warming

(Story)

Jan 28, 2019

LAUSD Teachers' Strike Ends After Six Days

(Story/Media)

Jan 22, 2019

Woolsey and Camp Fire Turn California into an Inferno

(Story)

Nov 09, 2018

Trick or Treating Age Limits?

(Story)

Oct 16, 2018

Banning Books: Against Our First Amendment and Damages Youth

(Story)

Oct 09, 2018

Patriot Varsity Football Off to a Strong Start to Season

(Story/Media)