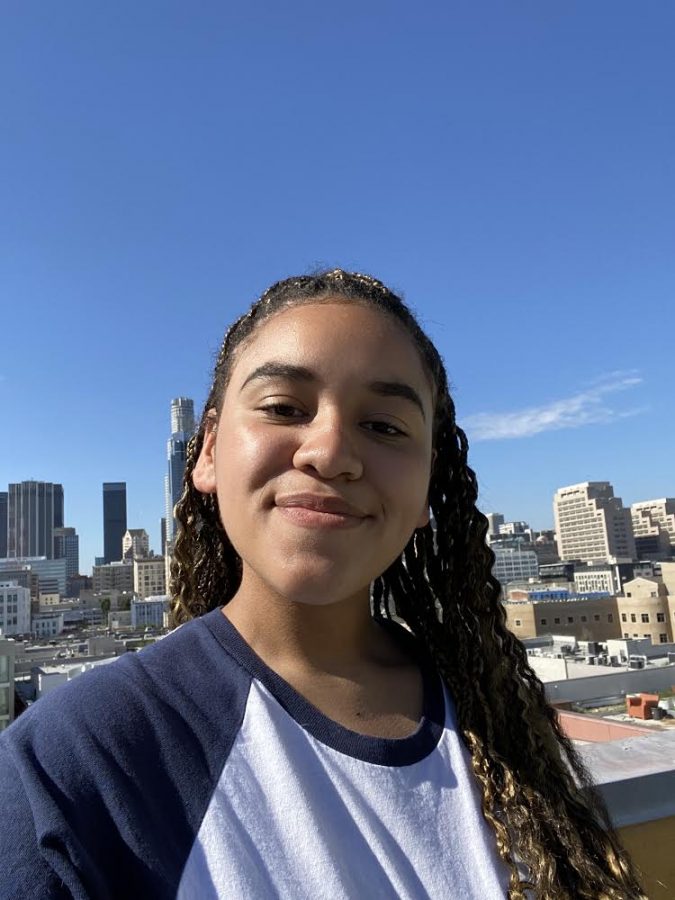 Jenessa is a 17 year old senior attending Birmingham Community Charter High School. She has been a writer for the Patriot Post for three years now. She tries to be involved in as many activities at school that she can, including ASB, Black Student Union, Journalism, Junior Council and French Club.
You will usually tend to see Jenessa with a smile on her face, and if not then she's probably anxious or stressed. You can always talk to her if you have a problem and she'll be there for you in your time of need or if you just want to hang out. She enjoys reading, fiction or nonfiction, but especially autobiographies by world leaders and those who have had interesting or unique life stories. She loves writing and public speaking, so she's never too afraid to get up in front of class and do a presentation, and tries to never be scared of sharing her own creative ideas. She also has a lot of love for her friends who she loves to spend time with. Her goal for her junior year is to meet as may people as possible, as she has spent her last two years of high school getting over fear of normal social conventions. When she was little, she was a ballet, jazz, and tap dancer. Even though she doesn't do it as often anymore, she is never afraid to break or drop it down at any dance. Ever.
In the future, Jenessa wants to attend a four-year college or university before graduating from law school. Her dream is to become a barrister so that she could be an advocate in the courtroom for those who need it. She even sees herself running for public office someday (if America's political institutions can survive that long). In addition, she also wants to become a global activist in areas such as the environment, reforming the criminal justice system and raising funds for low income countries. She could even see herself becoming a writer on the side, but only time will tell.
Jenessa Henderson, Co-Editor-in-Chief
Oct 19, 2020

How Masks Became Political in the United States

(Story)

Feb 27, 2020

There's Still Time to Contribute To Project Pop Drop!

(Story)

Feb 10, 2020

Why is the Switch to Daylight Savings Time Still A Thing?

(Story)

Oct 29, 2019

The Ever-changing "Perfect" Female Body

(Story)

May 03, 2019

College Admissions Scandal: How the Elites Escape the System

(Story)

Mar 14, 2019

BSU at BCCHS Celebrates Black History Month

(Story)

Mar 12, 2019

America's Opioid Epidemic

(Story)

Jan 17, 2019

2018 Has Been Another Year of Horrific Gun Violence

(Story)

Oct 30, 2018

The Underwhelming 70th Annual Primetime Emmy Awards

(Story)

Oct 18, 2018

Meet Ms. Tracie Bowdoin–Birmingham's New Principal

(Story)