Back to School Pep Rally
Welcome back patriots! 
The Welcome Back Pep Rally really motivated our students here at BCCHS, and it also gives the new students a taste of how spirited we like to be! The theme of this pep rally was inspired by "Oh, the Places You'll Go!" by Dr. Seuss.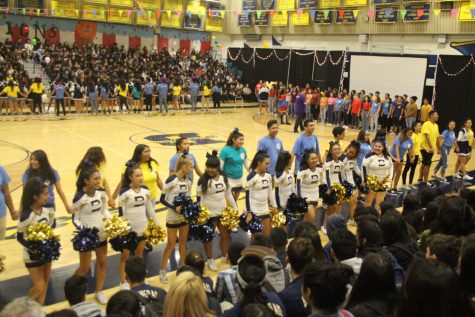 The set up for this pep rally was unlike any other students have had. Freshmen were the first to see the pep rally, followed by sophomores, juniors, and lastly seniors. The reasoning behind dividing the grade levels was because Administration decided that every student should be able to attend the rally and ASB also wanted all students to be able to go.
Both Ana Sosa and Monica Pezqueda, seniors and co-heads of pep rally events, have been planning and working on this rally since the summer and they had ideas on how they wanted it to go. So once school began, it took ASB three weeks to work on decorations for it. The Student Body started setting up the night before the pep rally began, and that took a total of four hours.
Unfortunately, when they returned the next day in the morning, many decorations had fallen. And it took them another two hours to set up the fallen decor and any "last minute" decorations according to Pezqueda.  She also said that the best part of being the head of the spirit committee "was seeing my vision come to life." Our students experienced the best circus view with all the lion and elephant decorations, as well as the amazing ringmaster and clown costumes.