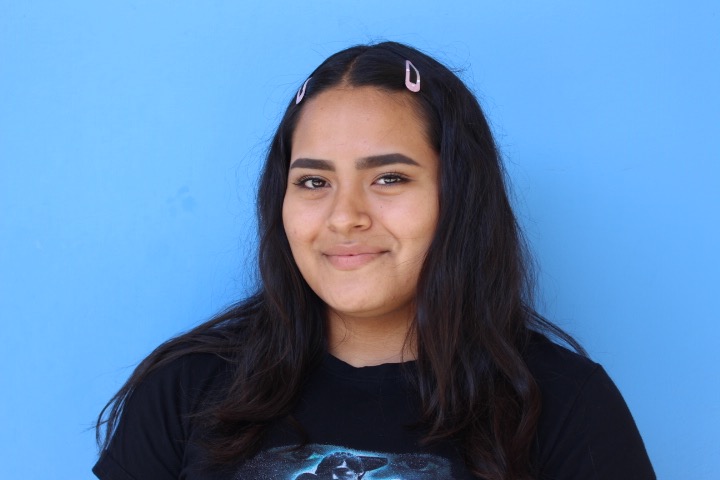 Ruth Aguilar is a 14 year old sophomore at BCCHS. She adores creating stories and the artistry of photography. Ruth is a very social person and is very caring towards animals and people. Some of her hobbies include: cooking, playing video games, playing with her dogs, and drawing. Her favorite video game being is Persona 5.
On the weekends, she also plays volleyball at the park with her older brother. She lives in a lovely home with a family of five. She has an older brother and sister who keep her company and cure her boredom all day long. Ruth is very close with her siblings but finds herself hanging out with her brother more. Her house is always lively with guests always coming over. She is a very outside person and loves being with her dogs. She will either hang out with them on her trampoline or in her treehouse.
Her parents are very supportive about what decisions she makes and she loves them very much. Her father is a hard worker and loves to bring things home that he gets from work. It can be a TV or a goat, but no in between. She is a very dedicated student and has always been a helpful friend.
Ruth doesn't really like to stay away from home for too long. People often think she is lame but she is always willing to go over to your house if you have a good game to play.
She has always had big dreams for the future. When people ask her what she wants to pursue as a career, she never says only one. She has always wanted to be a veterinarian because of her love for animals; although lately, she has been shifting her plans in hope of becoming an FBI agent. Because of her love for writing, she often writes short stories and hopes to one day publish a book. Ruth wants to study at UC Santa Barbara, mainly for the reason that it is near to the beach. She hasn't quite settled her plans for the future, but she hopes to find her passion soon.
Ruth Aguilar, Staff Writer
Feb 27, 2020

Royal Rumble 2020 Astounds the WWE World

(Story)

Jan 23, 2020

Days Gone Video Game Features Post Apocalyptic Survival Skills

(Story)

Dec 12, 2019

Widespread Homelessness In Los Angeles Increasing

(Story)

Nov 15, 2019

New Persona 5 Game Guaranteed to Steal Your Heart

(Story)