Mr. Birmingham 2018 Results
This year's annual Mr.Birmingham contest was a delightful event to attend and remember. As always, the event took place in Sally Field Performing Arts Center which was decorated with colorful lighting and posters on the side walls with the contestants' name on them. All through the show, the senior contestants were dressed in bright blue tuxedos provided by Friar Tux.
It was truly amazing to see how many contestants were part of this year's activity. There were ten seniors getting ready to show their individual talents and win the title of 2018 Mr. Birmingham! The judges were Mr. De Fronzo (social studies teacher), Ms. Humphrey (English teacher), and our beloved security guard, Mike. The night started off with all contestants standing on stage waiting to be announced and accompanied by their friends and/or significant others to the judges table. Each judge took their turn to ask a contestant one question of their choosing.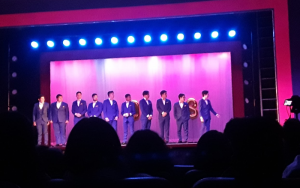 The real fun started with the first act by Raymond Astorga performing an original choreographed routine from color guard. He landed every flip, move, and shot he took with his flag, rifle, and sword. The crowd was shouting his name, "RAYMOND…RAYMOND…RAYMOND…", with every land he completed. Raymond was proud of his performance and will always treasure this night. The second performance was Jerel Orejuela, and he sang one of Frank Ocean's famous hits. During his performance, his phone rang, and in this act of disturbance, he slowly put his hand in his pocket to turn off his phone. Jerel didn't seem quite embarrassed; in fact, he kept performing like a professional would. He kept the crowd intact with his performance.  Manuel Puentes also performed a song, he sang "Bloody Mary" by Lady Gaga with such elegance. Near the end of his song, he made the crowd shout back and forth "Bloody Mary!" The last contestant that chose to sing was Joseph Martin, and he performed "Isn't She Lovely" by Stevie Wonder. By now the audience was filled with excitement and they clapped along to the beat of Joseph's song.
Although many chose to sing, dancing was the next big thing. Hussein Maajid-Bey's performance was both bold and surprising. He danced the night away to the song "Billy Jean," by the king of pop, Michael Jackson. Hussein decided to give it all he had, as he dressed up in Michael Jackson's signature look, a red suit with black pants, a white glove on his right hand and to top it all off, he wore a black hat. Hussein swayed with a mixture of M.J's signature dance moves. Bryan Saucedo also created his own dance moves with the help of the BCCHS Dance Team. The Dance Team backed up for Bryan and they looked as if they were copying Bryan's electric moves. Once done with his performance Bryan decide to throw a little more flame into his mixture. He attempted to flip a water bottle on stage and make it land. Many were overwhelmed with the thought of him landing it. Yet hope was crushed when he not only missed his landing on his first try, but also his second try as well. 
Ozdell Santos, Oliver Chaves, and Nerses George performed their own enthusiastic instrumental talent.  Ozdell kicked it off with a standing ovation, performing the lead guitar and lead singer, of his band, "Oz and the Yellow Brick Road". They performed the song, "Use Somebody" by King of Leon. The audience was thrilled, they joined along, flashed lights, some even danced. It was like being at a real live concert. The joy was too much to handle. Oliver Chaves decided to go another direction and do a solo performance playing the keyboards to the song, "Mr. Brightside" by The Killers. Before he started, he encouraged the audience to sing along if they knew the words, and so they did. Throughout his performance, the crowd sang the entire song as Oliver played the music on his keyboard, never missing a note. The last to perform was Nerses George, also known as DJ MJ. He performed three different songs, each of which he created himself. The first song was a formation of different beats that was slowly added on top of other beats. The second song he rapped to as he still created a different set of beats. His third and final song blew everyone's mind. He manufactured the Mario Carts theme song  into a stretched-out version, then added on more of his created beats. Nerses showed many talents, from creativity to multitasking.
After his performance, it was time to announce the results of who won the 2018 Mr. Birmingham title, along with two free prom tickets. The contestants stood in a line, the same line as the one at the show's opening. Many of the contestants seemed tense, while others were showing off dance moves together until the results came in. They were all united somehow through the making of this talent show–some of these relationships grew stronger on stage and some were completely new. No matter what happened and no matter who won, all participants  grew new respect toward each other.
The BCCHS principal, Ms. Paul, came to announce the runner-up and winner. She explained that the voting was unanimous and a tough decision. The 2018 runner up for Mr. Birmingham was Manuel Puente who sang "Bloody Mary" by Lady Gaga. The winner of the 2018 Mr. Birmingham went Nerses George.
Nerses was extremely surprised and filled with joy. Before he accepted his crown reward, he went to each contestant and gave a supporting hug. Later friends of his jumped on stage and tackled Nerses with heartfelt hugs and high fives. The staff slowly took them off stage where they could celebrate Nerses' victory. Many people crowded Nerses for his win, and gave him a congratulations. The rest of the night you could only see a smile on Nerses face, along with surprise and accomplishment.
After the show, George explained how he decided on what he was going to perform. He stated, "So mainly what I came up with for the first track that I performed was something off my album, which is out on Soundcloud. All the raps were original so I just wrote something for the show, and then for the second beat it was also original for this show. I played some piano and chopped it up, added some drums it was manly just bring originality to the show."  Nerses started making music since he was 12, and now has his own studio. "I felt extremely nervous, I was focused, so that I can not mess up! I can not mess up! But I was manly having fun with it because I had a lot of support from friends out here. They made me feel a lot more calm and at home. Basically it felt like I was performing in front of all my friends. It was a really good experience this was one of my first live shows. It shows that a lot of people like my stuff and gave me more confidence." When the judges called out his name, he was really surprised, "Oh my god I did not expect it at all because all my friends were up there too and they're great guys, I'm always the most humble, thinking that another person can take it and that I don't really deserve it as well as them. The only thing I do deserve is to have fun with it."
Soundcloud – https://soundcloud.com/dazed-muzik