A Quiet Place Is Loud at the Box Office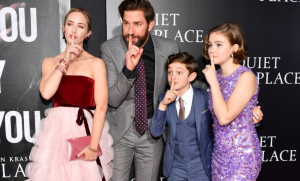 A Quiet Place is one of the world's most talked about movies and was positively reviewed at 100% on Rotten Tomatoes. The director and screen writer, John Krasinski, starred in the film with his wife Emily Blunt. After eight years of marriage this is the couples' first film together. They act as a married couple with three kids surviving a world dominated by aliens. Krasinki's relations with Blunt had no part in the casting project, although he did say "I knew she was perfect for the job." Even Blunt was suggesting people she thought could play the part. After she read the script she fell in love with the part and told her husband, "Please do not ever cast anyone to play this part, I'm in love with this script!" Krasinski appreciated her enthusiasm for all the hard work he did to make this screen play come alive. Krasinski is best known as playing Jim Halpert, a sales man, on the NBS sitcom The Office. In The Office he also got a taste of screen-writing episodes. In the sitcom, Jim Halpert plays a hopeless romatic toward his co-worker Pam Beesly,which is played by Jenna Fitcher.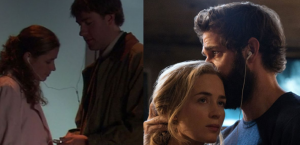 Many office fans are talking about a scene moment that took part in A Quiet Place that was taken from an office episode. The scene showed each couple listen quitely to music as they share a romantic moment. The Office fans didn't mind sharing a moment taken out from their bing watching show, of course due to John Kransiski playing the role they were all for it. The Office is very much enjoyed and still talked about after five years when the show came to a quick end in the nineth seasons.
'A Quite Place' is a fictional story in which a husband and his pregnant wife, along with three children, try to survive the attacks of aliens. The ending of this film lead to a clif hanger, showing if they will survive due to the finding of a weapon that can kill the aliens and save mankind. A new anouncement shown through social media tells us that there will be A Quiet Place 2, picking up where the tragic family left off.