Beyoncé headlines Coachella 2018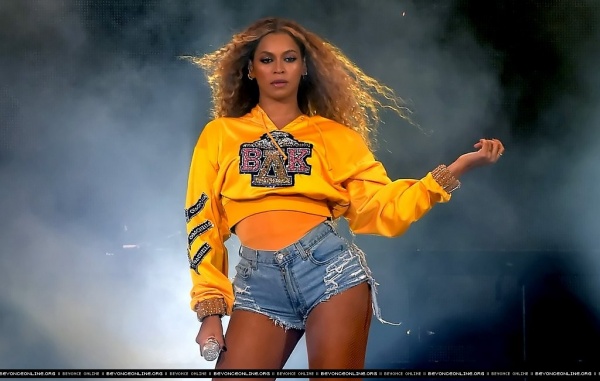 Beyoncé headlined Coachella Valley Music and Arts Festival.
Beyoncé was schedule to perform in 2017, but due to her pregnancy she had to cancel it, and she promised she'd come back for 2018. She then spent time taking care of her twin babies and preparing her performance.
Beyoncé's performance was a celebration of Black cultural influence in America, such as civil rights to Nina Simone and Historically Black Colleges and Universities (HBCUs).
Beyoncé opened her performance by strutting onstage in a glittery cape while holding a drum major baton. With her on stage was a marching band waiting for her on the bleachers. The drum line included alumni from HBCUs. Her dancers were dressed as a drill team and the band were dressed in yellow sweaters.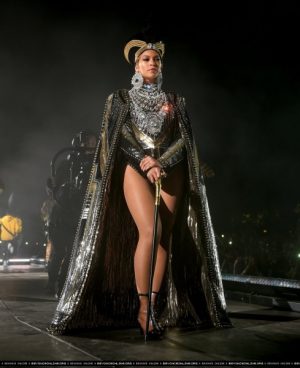 Her backup dancers took the stage and did a breakdance as Beyoncé did a quick outfit change, and came back with a yellow hoodie, jean shorts and fringe holographic boots. Beyoncé did her signature pose and did a break as well.
Horns started blaring and her iconic song, "Crazy in Love," played. As the song was playing, she slowed down the tempo and transitioned to "Freedom."
After that number, she slowed it down and paid homage to James Weldon Johnson, by singing his song written as a poem, "Lift Every Voice and Sing." The song is often referred to the "Black/African-American National Anthem." It was the most political and historic moment of her performance.
Messy Mya voice projected through the stage and the beat dropped, and everyone got hyped for "Formation."
The next song was "Sorry" and she mixed in verses of "Kitty Kat" and "Me, Myself, and I."
The Les Twins came on stage and did a renditions of "Drunk in Love," as well of "Diva" "7/11" and "Flawless."
DJ Khaled voice came over the speakers announcing: "After tonight, Coachella gotta rename Coachella the Beychella. New name alert: Beychella!"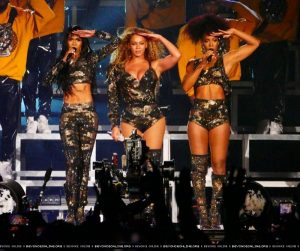 Jay Z made an appearance on stage for their duet "Deja Vu." Jay Z was not the only who came on stage with her. Destiny's Child made a reunion for their hits, "Lose My Breath," "Say My Name," and "Soldier."
For the last special appearance, her little sister, Solange, came on stage and had a dance-off to "Get Me Bodied." In a way, this was a sequel to when Solange brought out Beyoncé for her Coachella performance back in 2014.
Lastly, she ended with with "Love on Top." She sang the song with such passion for her loyal fans.
After her performance, "Beyoncé" and "Beychella" were trending worldwide with more than 1 million tweets talking about it. These tweets sparked conversations of this being the best Coachella performance ever.