BCCHS School Style 2018-19
Every student picks out an outfit for school–either the night before or the morning before school starts. Each student has their own personal style they create or like to follow. Here at Birmingham Community Charter High School, students from all grade levels like to express themselves through their fashion sense and their choice in clothing, either as brands or as personal influences.
Fashion is consistent in every person's life. It is used as self-expression and comes in all shapes and sizes. There are certain steps to choosing an outfit for the school day, like choosing a top and bottom and picturing what shoes will look best with what you chose to wear.
Many students like to match, using accessories and standing out, while others prefer to be comfortable throughout the school day. There are several things that influence a person's choice of style. Music, movies, and celebrities can all have an impact on a person's outfit choice.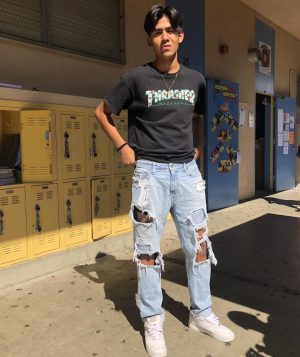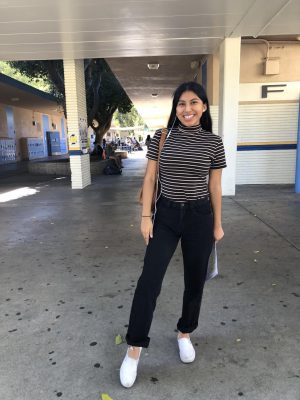 Although the school dress code does limit the options a person can wear, students do not fail to impress with their unique outfits. There is a strict dress code to follow which impacts many people's outfits. Off the shoulder tops and tube tops have made a comeback and are very popular. However, the school dress code does not allow shirts or blouses that do not have straps which may contradict a person's outfit choice. There are still many outfit choices about what to wear and what are unique outfits.  Students still find a way to express themselves while still following the school's dress code.
 After interviewing several students at Birmingham, they shared what it was that inspired them to wear what they chose to wear and what were their thoughts on their clothing and fashion sense. Rochelle Sanic, a junior at BCCHS, shared her thoughts on her outfits and how she gets ready for school. "I put on whatever I see first and try to make it work." She added that she enjoys receiving compliments from her fellow classmates.
Other students stated that what motivated their outfit choice had to do with what their mood was for that specific day. Carlos Jones (11) at Birmingham stated that his friends and music inspire his choice of clothing. Students who are new to Birmingham have all noticed a similar trait here at Birmingham which was how fashionable students from all the grade levels seem to be.
Having a nice style is a topic many students seemed to agree on. Another reason for outfit motivation came from celebrities such as ASAP Rocky, Travis Scott, Selena Gomez, and other well-known celebrities. Other students added that brands were important when it came to styling. Many famous brands such as FILA and Nike are becoming even more popular and are drawing more attention now due to ad campaigns and partnership with other designers and popular brands. 
Cold weather is approaching which means a lot more outfits are to be seen on campus. Sweaters and hoodies are usually worn during fall/winter weather. Boots are also popular during this season. Students will continue to impress us with their school outfits throughout the entire school year.