College Football Season is Back!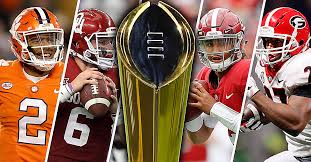 Hang on for a minute...we're trying to find some more stories you might like.
 The most exciting part of the year for football fans has started, the college football season. Everyone is excited to see their favorite college team play–see their new formations, plays and, of course new players that have been signed.
Many football fans are saddened because there favorite college players have left into the NFL draft and are ready to start their season as pros. Some players, like Baker Mayfield, who went to the University of Oklahoma are picked first in the draft–Baker was the first overall pick signed by the Cleveland Browns. Even though fans are saddened when their quarterback leaves, the possibility exists that he's going lead the Browns to an NFL championship. Another great college football player, Saquon Barkley, was the second overall pick signed by the New York Giants. He went to Penn State, played running back, and is now an NFL rookie playing significant minutes every game.
As the first week of the season has passed, there have been great wins and defeats. A lot of people have their eyes on the Alabama Crimson Tide. They're currently the favorite
team to go all the way. Other teams like Clemson, Oklahoma State, USC, and Notre Dame are all great teams who are also favored to compete for the national championship. Other teams not expecting the best seasons include: Florida, Florida State, and South Carolina, who are currently near the bottom of the rankings.
Some other teams that are just in the middle include teams that you just don't know if they are gonna make it to the playoffs or not–depending on the the players and the day of the game. From my point of view, Alabama is taking it this year without a doubt.
One player who has gotten a lot of exposure is freshman Trevor Lawrence. As a rookie QB ranked #1 in the nation, he has a lot of pressure playing for Clemson University.
 He's trying his best and had to fight for the starting position as Clemson's starting QB.
Even though all these teams are either losing or winning and new players are joining and old players are sadly leaving, we really don't know who is gonna win it all at the end. We can just make assumptions about teams who are going to win and as soon as playoffs start, that's when everything gets more serious: stricter coaching, more critics, and more interviews for players, teams, and coaches.
As the season goes along, we will see who wins and what players stand out during the season and what players will be ready for the NFL draft at the end of the season. Even though its still really early in the season, everyone is always excited for this early part of the season. This is the time when everyone is excited for Saturday football and when you see a lot of people come together for tailgating and festivities. So let the college football season begin!