Patriot Varsity Football Off to a Strong Start to Season
The 2018 BCCHS varsity football season is off to a strong start with the team having a 4-2 record. After previously losing to Harvard Westlake last year, the team showed how hard they worked by defeating Harvard Westlake 30-21 for this season's first victory.  Birmingham then brought home another victory  against La Salle, scoring a convincing victory, 56-0. Over the course of the game, our quarterback Jason Artiga (12) made a pass to Mason White (11), making a 85 yard pass to Peter Barrientos (12) ending with a touchdown.
The Patriots suffered a 31-7 loss against St. Paul and a 40-12 loss against Sherman Oaks Notre Dame but the team made a quick turn around by beating both Granada Hills 40-17 and El Camino 40-7. Birmingham's football team is now on their way to ending their season strong–especially considering everyone's confidence and the improvement of the team.
Many parents have expressed high levels of confidence in both how far the team has come and in how well they are doing this season and in the future. One spectator at the La Salle game stated about their win, "I'm truly impressed by Birmingham's skill, they are an incredible team and most definitely earned that win."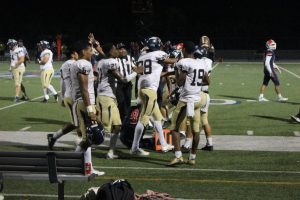 While the speculation about getting a new football field flooded around the school last year, this year all the talk was put into action. Despite not having the field to practice on, the team continues to keep improving, which most definitely has showed in their scores. The lack of a field has brought another issue, which is there will be no home games. Few students show up to "home games" due to the distance for most of them. "Home games" have been played at Cleveland High School in Reseda.  Some parents didn't even make it to their own child's game. The Patriot's stands look quite empty without all the supporters there.
One parent, Guendi Sosa, replied that in regards to no true home games said, "I don't like that, it's horrible and we miss seeing our cheerleaders."  Several other parents also expressed a dislike and even a frustration about it. Field or no field – the team is definitely worth the commute and it looks clear that our Patriot football team is well on the way to winning the league title this year.  The next three games feature contests against Cleveland High School, Chatsworth High School, and the final game of the year is our homecoming game against our rival, Taft High School on October 26.  There was an outside chance of the Birmingham football field being complete in time for the homecoming, but it seems likely that the game will be played at Cleveland High School football stadium.