The Underwhelming 70th Annual Primetime Emmy Awards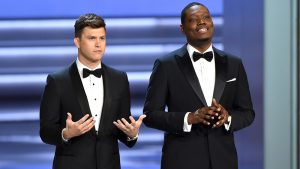 On Monday, September 17th, the Television Academy held it's 70th annual Primetime Emmy Awards hosted by cast members Colin Jost and Michael Che on Saturday Night Live. In every type of show there are moments that excelled in some areas, but fell flat in others. This year, NBC handed the show over to Saturday Night Live (SNL) producer Lorne Michaels, which caused the ceremony to feel like a longer and more lavish SNL episode. Many jokes and running gags throughout the show didn't get a lot of sincere laughter from the audience–including the self-deprecating musical bit, "We Solved It" that poked fun at the industry's commitment to inclusion. This lack of laughter from the audience caused some viewers to feel secondhand embarrassment from their own living room. Also, with this being the first Emmy ceremony after the 2017 news of Harvey Weinstein's sexual misconduct opening floodgates in Hollywood, many were expecting to see references to the #MeToo movement, which were noticeably absent this year.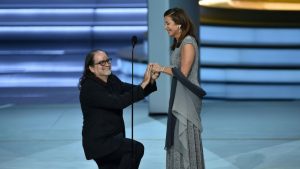 However, this year's show did have many great moments.  After director Glen Weiss won for his work on the Oscars, he proposed to his girlfriend on the stage – and she said yes before he even got to pop the actual question. Also, host Michael Che highlighted the exclusion of minorities in the awards circuit by giving "Reparation Emmys" to black actors such as Jaleel White ("Family Matters"), Marla Gibbs ("The Jeffersons"), Tichina Arnold ("Martin") and Kadeem Hardison ("A Different World") who have been disregarded by the voting academy. During "Westworld" star Thandie Newton's acceptance speech after winning Best Supporting Actress in a Drama, she stated "I don't believe in God, but I'm gonna thank her tonight," which got her immense applause from the audience. Lastly, TV legend Betty White finally got her due by giving a speech that was funnier than the opening monologue.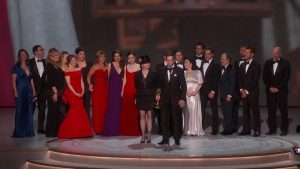 Speaking of wins, the Television Academy stepped away from their deserved reputation of always giving awards to the same people every year. Emmy newcomer "The Marvelous Mrs. Maisel" swept the comedy categories with five awards, including the Best Comedy Series. The favored "Game of Thrones" took home the award for Best Drama for the third time in four years, along with Best Supporting Actor for Peter Dinklage. "The Assassination of Gianni Versace: American Crime Story" won Best Limited Series, Lead Actor in a Limited Series for Darren Criss, and Direction for a Limited Series. "Saturday Night Live" won Best Variety Sketch Series.
After six years of consecutive snubs, critical darling "The Americans" took home the awards for Lead Actor in a Drama for Matthew Rhys and Writing for a Drama Series. "RuPaul's Drag Race" took home the award for Best Reality-Competition program and Best Host for a Reality Show.
With worries about the decline in award show ratings, it's questionable as to why this years Emmys ceremony was quite so disappointing, with bad hosting and unsurprising outcomes. If main television networks like NBC plan on boosting ratings for these events, they should try a better alternative in the future.