"Be Our Guest" at the 2018 Homecoming Pep Rally
'Bonjour' Patriots! This year's second pep rally was unlike any other. This was the first-ever pep rally that was held on a Monday–in order to kick off Spirit Week with some school spirit! The theme for the rally was Beauty and the Beast, representing the 2018 BCCHS Homecoming Dance. As always, our mighty Patriot student body gathered in the main gym, where they enjoyed games and different performances from our powerful band and dance team.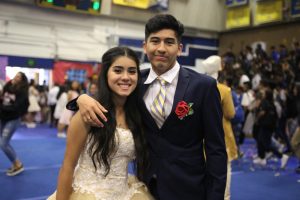 The pep rally was scheduled in the main gym in the order of juniors, sophomores, seniors, and lastly, freshmen, period four. The division of the two sides in the gym was between Lumière and Cogsworth. This usually always makes a fun challenge between peers in the same grade levels, especially during games made up by our creative Associated Student Body known as ASB.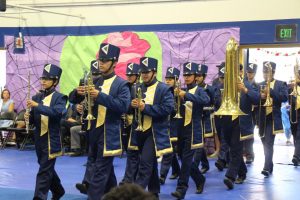 ASB members were dressed up in different outfits connecting to the theme, such as either royalty or villagers. The pep rally started off with a short film leading towards our co-stars–Ethan Sanchez(12), playing as the Beast, and Abigail Almanza(12), playing as Belle–as they entered the main gym. As the crowd cheered with excitement, all ASB members danced as though they were at a ball.
After that, ASB introduced a short film made by no other than the ASB tech committee, showing off Birmingham's amazing fall sports. The rally held a Kahoot-like quiz at the beginning to test the rivaling sides about who knew the movie Beauty and the Beast the best.
Birmingham's 2018-19 Dance Team gave an amazing performance as usual. Their outfits, of course, had to match the theme which made them all look even more in sync. They started off dancing with the Beauty and the Beast soundtrack and then turned to more current songs. Later, the 2018-19 Varsity Cheer Team performed one of their game routines, much to the delight of the audience. After the pep rally, many more people were enthusiastic to attend the homecoming dance.