BCCHS Play Pro's Haunted House, A Scary Success!
Our 2018 BCCHS Play Pro cast held this year's Haunted House like never before. For as long as we can remember, Birmingham has always held a themed haunted house near the end of October to fundraise for our Play Pro cast. The price of entry  has always been $2 per person.
This year, our creative Play Pro cast decided to go a different route regarding the annual Haunted House. They didn't raise the prices at all, but raised the experience you get by creating more than one theme. Compared to last year's theme being The Purge, they switched it up this year and made the experience a whole theme park, filled with separate rooms and background stories. The Play Pro cast created their own groups and did their own make up, costumes, and decorated their own section of the Haunted House.
Play Pro members had no idea the outcome would be so great. The lines to attend the Haunted House during lunch were extremely long–to the point they couldn't take everyone in due to lunch being only 34 minutes long. The Haunted House was only open during lunch from October 23 – 29.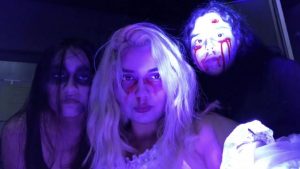 There were four various-themed rooms in total. One of which had a hallway of clowns holding mixed weapons, screaming into their masks as loud as possible, and additional stage lighting to make it seem as scary as being part of a horror film. Other rooms had the same energy in the air, with less screaming involved. Overall, the Haunted House was a big success this time around and we all know very well that the creativity of our talented Play Pro students will continue to deliver future Haunted House productions.