Woolsey and Camp Fire Turn California into an Inferno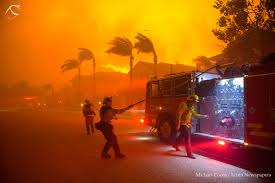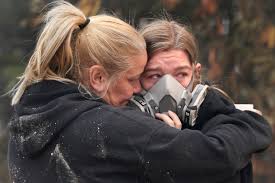 On November 9, 2018 just a day after the deadly mass shooting at Borderline Bar and Grill, the city of Thousand Oaks was hit with yet another tragedy.
The Woolsey Fire broke out early on Sunday, November 9. The fire had started in Woolsey Canyon but due to the Santa Ana winds –which reached up to 60 mph- it spread much further. The fire charred a total of 96,949 acres and destroyed 1,643 structures, which included many homes that were obliterated by this deadly inferno. Among those structures destroyed were celebrities' homes, movie and TV sets and locations, and a large number of ranches and farms. The fire burned for 18 days, and during that time, the fire took the life of three people and approximately 295,000 people were evacuated and the damage devastated hundreds of thousands of people.
Many people lost power for days and lived in fear of not only losing their homes, but also of looters. The police department took precautions to keep the structures standing safe from any looters. Amongst those who were able to return to the remains of their neighborhood, there were those who claimed that there was no way to tell if the house was gone until you got close due to how random the structure loss was in most places. If their house was still standing, the owner typically stated that their homes were under a veil of fire retardant.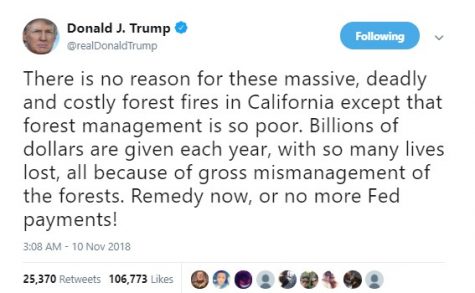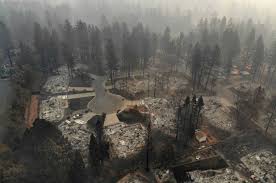 Controversy arose when Trump tweeted out that funds for the fire might be stopped because it's the fault of California's forest officials. Many felt that he was not only considering revoking funds but considering letting people's lives be ruined and letting more fatalities happen. Luckily, his words were just an empty threat.
Making the record as the deadliest wildfire in California history, the Camp Fire broke out in Northern California on November 8. Sparked in Butte County, the Camp Fire took the lives of approximately 86 people, injured 17 with two being firefighters, and burned about 153,336 acres.
The fire destroyed 18,804 structures. Most of the damage from this fire was done in the first two days. On November 25, the fire was 100% contained. The town of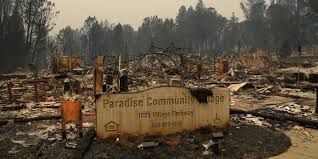 Paradise was completely lost to the fire and many residents question what to do now that their whole town is nothing but burnt rubbish. The damage is estimated to cost between 7-10 billion dollars to repair and rebuild.
During the time of the fire, many places such as schools served as evacuation centers and many animals shelters took care of people's animals until the owner could.