BCCHS Play Pro Adapts an Outstanding Production of the Addams Family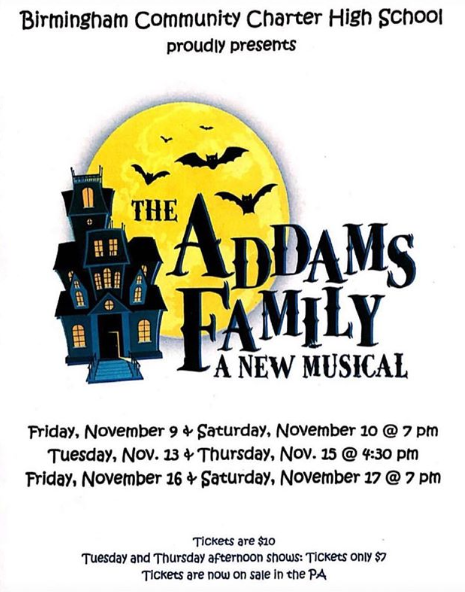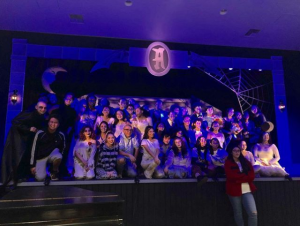 The Birmingham Community Charter High School Play Pro Production has hosted several musicals over the previous several years. Some notable adaptations were The Little Mermaid, The Wizard of Oz, Grease, and Chicago. For the 2018 Fall Play, Play Pro students got a chance to dive deep into their dark side with their own rendition of The Addams Family.
 The Addams Family originated as a T.V series in 1964, which was inspired by Charles Addams' characters from the New Yorker cartoons. The New Yorker cartoons are about the fictional family household consisting of Gomez Addams (played by Bret Barrera/Anthony Ramirez), his loving wife Morticia Addams (Julianna Rodriguez/Giselle Pacheco), their children Wednesday (Amanda Magana/Jasmine Brim) and Pugsly (Chelsea Villanueva/Kaytlyn Rivas). The immediate family also included: Uncle Fester (Zachary Duran/Francisco Martinez), Grandma (Miriam Vela/Angeles Izquierdo), and their trusty Lurch (Donovan Ausby/Kyle Cadunog).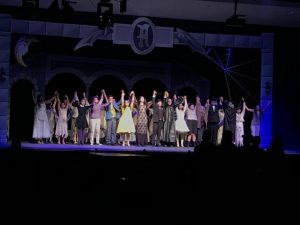 The production started at the beginning of the fall semester and opening night was on November 9, 2018, and the auditorium was packed with ecstatic students, teachers, and fellow Play Pro alumni. The play was performed in six shows over two weeks. Tickets were sold for $10 and students had the option of matinee shows for only $7.
The Addams Family musical revolves around a peculiar wealthy family which seeks delight in grim and gloomy situations. The family is also known for their satirical humor and nonchalant attitude towards others of their nature. All hell breaks loose in the family when the daughter, Wednesday, falls in love with Lucas Beineke.
The production quality was amazing. Play Pro presented a fantastic show that was worth every penny of admission. Each member, whether it was the crew or cast, dedicated all of their hard work, time, and genuine talent into their craft. Their artistry was very well received and recognized throughout all six shows.
This was all possible because of BCCHS drama instructor, Mr. David Weiss. He is the director and set designer of Birmingham's performing arts department. He is also responsible for all of Play Pro's past musical pieces. He is also accompanied by the Tech Theater class. They manage and set the whole play along with Mr. Weiss.
William Chavez(12) elaborated on his experience and portrayal of Lucas Beineke. Chavez revealed, "My experience was very liberating, mostly because I could release emotion through my acting." Behind the curtains, Chavez admitted he felt emotional and the moment was so surreal for him personally. "It was a very intimate experience that really pulled me away from the thought that I was still in high school. From just reading the script in the very beginning to the last rehearsal on stage, it seems as in between them and then none of it really happened. Everything went by all too fast," Chavez unveiled.
Birmingham is truly blessed to witness the raw talent that these performing arts students deliver each year. Many students are already anticipating the next show, which is the spring play. Play Pro will expect returning Broadway fanatics, aspiring actors and actresses, and a guaranteed bigger crowd to perform in the last production of the year.