LAUSD Teachers' Strike Ends After Six Days
LAUSD is the largest school district in California and the second largest school district in the United States, educating 734,641 students. Despite being the largest school district in the state, it surely isn't the best. As many of us know, LAUSD schools, which employ over 25,000 teachers and 30,000 classified staff, are understaffed and underfunded. Many teachers pay out-of-pocket for classroom supplies and students can't go to the library any time they choose because there's no real librarian. Classes are packed full with thirty or more students. United Teachers of Los Angeles( UTLA), the union which represents teachers who work for LAUSD, has negotiated for nearly a year without reaching a contract. Many of these teachers demand a well-overdue change. Some of these changes include smaller class sizes, more nurses, more counselors, and more librarians–as well as a pay raise.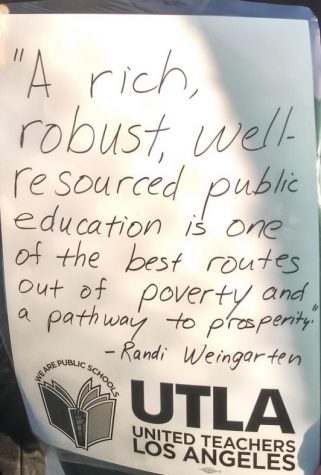 For the first time since 1989, teachers walked out of their classrooms and went on strike. On Monday, January 14, teachers stood outside their schools picketing in the morning as well as marching in front of city hall in the afternoon. Once the strike happened, LAUSD schools' attendance dropped drastically. By Thursday, less than one-third of students were attending class, and this cost the district over 60 million dollars. The strike concerned many parents. Many were left to worry if their child would be looked after and kept safe. Ms.Barnet, a kindergarten teacher, explained how it wasn't the safest thing to send middle school and high school students to school during the strike as it becomes an issue of lack of safety. The kids that did go to school were often grouped into the gym or auditorium and had substitutes or office workers watching them. Little to no teaching was done. Any LAUSD school you passed, you saw teachers with signs fighting for their students (even in the poor weather conditions) and many of these teachers were accompanied by their own children that they themselves had to pull from school due to the strike. Often cars honked to show support to the teachers who were giving up so much for change.
Northridge Middle School's UTLA representative, Rodney Harding, an American history teacher, commented on how amazing it was to see the unity of so many people who were coming together for such an important cause. Harding explained that all the teachers worked incredibly hard to be where they are today and it's up to the teachers to fight for what's important for their students. While money isn't the main issue teachers were fighting for, it sure was an important one. He told of how many teachers struggled financially–whether it's paying the bills or being able to buy necessities and decent health care. He proceeded to explain how large class sizes weren't fair to the students. "When there's thirty plus students in class, I can't give them that one-on-one they need and when I'm grading work, I can't take the time to go in-depth for better grading." Harding had a very hopeful outlook on the strike.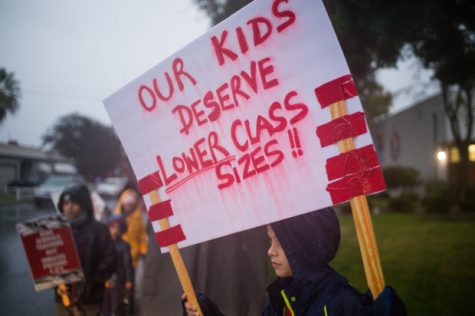 Many teachers claimed that the rainy weather that took place during the strike only showed their dedication more. Students reactions varied, as some were disappointed that they were losing valuable learning time while others were thrilled to have "chill days." Very few students were indifferent. As the strike grew longer, many parents grew anxious for a decision to be made so kids could get back to a sense of normal.
Many public announcements were made by UTLA's president, Alex Caputo-Pearl as well as Los Angeles Mayor Eric Garcetti. Many attempts to come to an agreement failed, but on Tuesday, January 22, news of an agreement spread throughout Southern California. The following day, teachers were back in their classrooms with their new agreement. The new contract included a 3% pay raise this year and another 3% next year, totaling to a 6% increase. While teachers were on strike, they lost 3% of their salary, making this year's pay raise ineffective, but teachers say it was about the well-being of their students more than anything.
Classes will decrease slowly, about 1 student per class per year. More nurses, librarians, and counselors will be added to schools.  Now that teachers are back in their classrooms, they are left to figure out how to cram a weeks worth of learning into the rest of the school year while still covering what they need to by the end of the year.