Electric Scooters are Expanding Everywhere
No matter which scooter you ride–whether it is electric or non-electric, whether you're 5 or 30 years old–everyone has the right to be scooting. The city of Los Angeles has accepted applications from seven electric scooter and bicycle companies. The city is authorizing Bird, Lime, Razor, Lyft, Uber and a handful of other companies to operate within city limits.
Many of these scooters are expected to show up in L.A. over the next several months. Uber was the first company to get one of the new city permits. Earlier this month, the company expanded its jupiter electric scooter and e-bike program from Santa Monica (where its been operating since October 1, 2018) to Los Angeles and other nearby communities.  To figure out where the electric bikes and scooters will be placed throughout the city, Uber is also looking at traffic areas so they can strategically place the electric bikes and scooters. Running scooters or bike sharing businesses will require more cooperation with local governments than ride-hailing companies did in the last decade. Uber and its competitors envision business that extends beyond cars and into more novel forms of transportation.
Uber is looking to hire people to help it develop autonomous scooter and bike technology. The goal would be to allow scooters to "drive themselves to charging or better locations." Rides can cost $1 to begin and 15 cents per minute afterwards. The most expensive model is a lime scooter that can be $100 to $500. Bird and Lime will be officially allowed to operate electric scooters in Santa Monica, along with Lyft and Uber. Lyft and Uber will each have 500 e-bikes on Santa Monica's streets. Jump scooters go up to 18 mph. Birds chargers begin rounding up the scooters around sunset each evening so that they can be charged overnight. Scooters have become issues in cities across the U.S. as local governments scramble to catch up with regulation and promote them as a way to increase mobility in congested streets.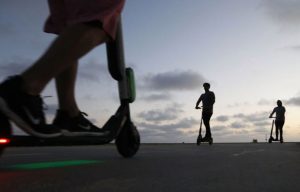 Under Pennsylvania law, you can get a DUI arrest or charge under "general impairment". A 41-year-old man was cited for allegedly driving under the influence of alcohol after he rode a rented scooter into the path of a car and was struck in an area known as University Heights. Although some precautions need to be taken, the overall idea of easier transportation in a busy area, such as Los Angeles, sounds like a good deal.