2019 MLB Spring Training Opening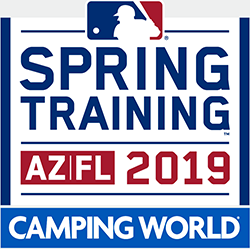 In Major League Baseball (MLB), Spring Training is a series of practices and exhibition games preceding the start of the regular season. It allows new players to tryout for roster and position spots. Spring training has always attracted fan attention, drawing crowds who travel to the warm climates of Arizona and Florida to enjoy and watch their favorite teams play. Spring training typically starts in mid-February and continues until just before opening day of the regular season, traditionally in the first week of April.
Pitchers and catchers report to spring training first because pitchers benefit from a longer training period. A few days later, position players arrive and team practice begins. Exhibition games usually begin around the beginning of March. Spring training by major league teams became popular in the 1890s and after the turn of the century.
Jacoby Ellsbury will be absent for the start of Yankees spring training because of a plantar fasciitis issue. Yankees manager, Aaron Boone, said during his first camp press conference of 2019 that Ellsbury won't join the team until mid-March because the outfielder developed plantar fasciitis while rehabbing from the hip surgery he had on August.
Ace Chris Sale arrived with the Red Sox a couple of years ago thirsting for the chance to pitch in the playoffs and win a World Series title. He fell in love with the sports passion of Boston and fitted in. Even though he did get that World Series trophy, his priorities haven't changed. Now he wants to win more trophies instead of the one he has and he wants to keep pitching for the Red Sox.
Brad Wieck, pitcher from the San Diego Padres, was recently diagnosed with testicular cancer. In a month, he wants to be throwing off the mound and competing for a spot in the bullpen. Now, Wieck's doctors believe he is fully healthy, though he's slated to go through a series of flow-up appointments. "At first it was tough, you know," Wieck said. "I didn't know why it happened. As a young kid, you think maybe later on in life people get cancer. But man, it's tough to deal with. But were dealing with it. All we can do is move forward."