Juice Cleanse: The Actual Student-Tried Results!
There are so many interesting and strange ways to lose weight, gain muscles, and to live a healthier life. I recently started a juice cleanse in which you must drink six bottles of special juices that will replace food plus two water bottles.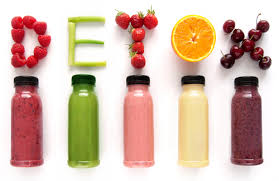 I went to Pressed Juicery where they have three different juice cleanses. Cleanse one, which if it's your first time it comes with a total of six juices and two waters. Cleanse two also contains six drinks and two waters, this is their most popular and helps balance everything. Cleanse three, has the lowest calories and is somewhat hard and has the same amount of juices as the last two.
I started the juice cleanse one on March 14, and I only did it for that one day. I have always seen these type of diets on YouTube, healthy websites, and I have seen the stores. So I decided to try it, and I loved it.  I did my research first to see if it was safe to do so, and the worst that can happen is that you get a headache, but luckily I didn't. I did juice cleanse one during the day. I surprisingly didn't get hungry for food, and the juices taste good and were easy to drink. I usually drank a juice every two or three hours, plus I did my normal workout for 40 minutes and didn't feel sick after not eating. I continued my normal workout and did everything like a normal day. After finishing up my day, I went to bed full and felt pretty relaxed. 
This is a list of the juices for juice cleanse one:
Greens 2

Roots 2

Citrus 2

Greens 3

Chocolate Almond
I was really glad I did this diet and I am planning to do it again in the future but for more than one day. I highly recommend to at least try this diet–give it a try as you can even make the juices at home yourself by going on YouTube and watching videos about juices that you think are the tastiest to make.