Irais Liera, New ASB President for 2019-2020
Another year, a new beginning. The end of the year has inevitably arrived. It is time to say farewell to all the good memories this year has brought us, and to open our doors for a new fresh start. Josh Castro was this year's Associated Student Body president. His farewell will be bittersweet as he accomplished many of his goals as president. This school will never be the same without Josh and we wish him the best at UC Riverside. Now that he has served the student body and finished his duty, someone else will receive the torch. Next fall, Josh will pass the position to Irais Liera, your new ASB president for the year 2019-2020.
Let's get to know our new student body representative. Irais replied to our questions by stating, "I just turned 17 and I'm a senior here at Birmingham. I consider myself a leader and a role model. I like to be very independent and I love public speaking. I consider myself to be a person that likes to improve every day and encourage others. And overall just be as positive as I can."
Irais took inspiration to be a leader during middle school. She explained, "In middle school, I took part in leadership and I wanted to try it out for myself and wanted to see what it was about and I liked it. My friend was a president at her school, and because of her, I wanted to become president." Through that experience, Irais created a long-term plan for how she wanted to see her future. A four-step plan, to be specific. She revealed, "I came up with a four step plan: move to a new school, not know anyone and have a fresh start and make myself known, join ASB, and become ABS president." She saw the value of having long-term goals and short-term goals in order for her to slowly achieve her goals.
"In middle school I wanted to run for president and I just felt scared and never gave myself an opportunity. If I didn't do it in high school, I knew this would be my last opportunity because obviously college is the last step, but it wouldn't be the same."
Irais also shared how she campaigned for elections. "I had a whole plan for this! I was ready! At first I wanted to do big things, like t-shirts and stuff but I knew it was going to be expensive, so I said, you know what I need to do is give something to a big portion of the school body. So I went with jolly ranchers and I knew people like candy in general and a lot of flyers. I knew if the quality of the flyers was good and creative, it would draw the attention of people," she responded.
Her promotional video was also unique as she showcased her skills in taekwondo, public speaking, and as a volunteer mentor for children at her church. "I knew a strong campaign video was definitely necessary because these people don't know who I am and this is a big school. So this video was going to showcase who I am," Irais clarified.
She was big on handling school events such as taking part in The Beauty and The Beast homecoming and making it come to life. She also mentioned that she tried out for many clubs but didn't enjoy them as much as she had hoped. 
For future plans, Irais elaborated that, "I want to make it a memorable senior year! But not just for seniors, for everybody! For me, personally, I need to have a good agenda and be really organized because I have problems with procrastination.  I want to make it memorable and fun and show people the impact ASB has on the school."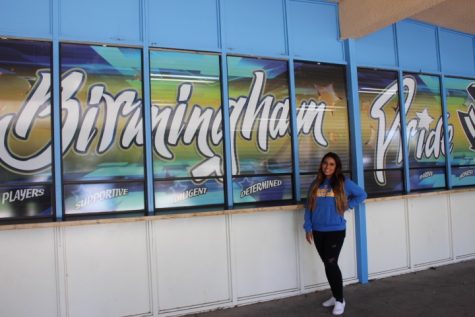 In order for her campaign to be successful, Irais depended on her supporters for the positive outcome they all hoped would happen. She is very grateful for unconditional guidance and support for her. She expressed, "Oh my gosh! [I'd like to thank] so many people, so many people. Probably the main person would be my mom. She took the money and time and she even recorded my campaign video for me! My mom has honestly been so constant with me". She added, "There was a time I did doubt myself- she didn't want me to be president at first, but she realized how passionate I was about it and she was like, 'You know what, sometimes I don't want you to be under all this stress but if it's something you want, I'm gonna be here to support you.'"
Another person who has helped her through this process was already mentioned, Josh Castro. Irais revealed, "Josh (Castro) definitely helped me, but not just him, my friends as well. They said, "Yes they are going to be people doubting you and there's going to be a lot critics. So be ready to handle that." They've been in that same positions, so I didn't feel alone."
Josh Castro arrived in the middle of the interview and jokingly said, " Irais Liera, we're ready for your interview." He was referring to the ASB interviews that had been going on.
"I was just talking about you!" Irais said. Josh responded back by saying, "I remember mine (interview). I was walking back and forth in my kitchen." Irais and Josh did a quick goodbye so she could continue talking about her presidential success. "If it wasn't for Josh, I wouldn't be where I am right now."  
When it comes to having controversies, Irais thinks that she has a solid team.  "If I have a solid team, I think we can prevent or come up with quick solutions to fix a problem. Planning for the worst."