Frank Vogel Will Lead the Los Angeles Lakers as their New Head Coach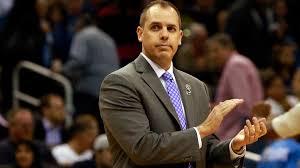 Frank Vogel has agreed to a three-year deal to become the next head coach for the Los Angeles Lakers. Vogel met with Lakers management Thursday, May 16, and completed the deal Saturday afternoon with Vogel's agent. Jason Kidd has also agreed to a deal to become a prominent assistant coach on Vogel's staff. The Lakers are enthusiastic about the prospect of Kidd working with point guard Lonzo Ball on a full-time basis. Kidd also has a strong relationship and history with LeBron James: the two were both teammates for USA basketball. Vogel, 45, was the third coach to be offered the position for the Lakers' coaching job. Monty Williams and Tye Lue rejected the Lakers' offer. Lakers general manager, Rob Pelinka, spent the last few days gathering information among those who have worked with both Vogel and Kidd. More importantly, it was all about how they believe those two could complement each other on a Lakers coaching staff.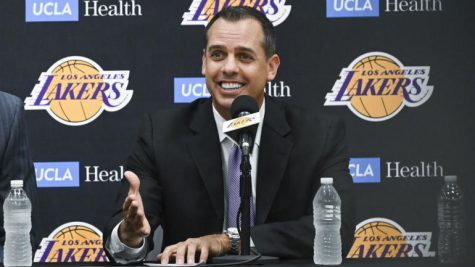 With Frank Vogel at the helm, the Pacers were among the best defensive teams in the NBA, leading the NBA in defensive efficiency twice and never ranking outside the top 10 in any of his full five seasons. Vogel went 250-181 while leading the Pacers, the second-most wins and second-most win percentage(.580) by a head coach in franchise history.  Vogel is a proven head coach with a career record of 304-291 after stints with the Indiana Pacers (2010-16) and Orlando Magic (2016-18).
Vogel said that although the Lakers front office planted the seed of adding Kidd to the staff, he welcomed the former Brooklyn Nets and Milwaukee Bucks head coach as his assistant. He reached out after the two connected and had a discussion for the first time. Vogel and Kidd did not have a previous relationship, but the Lakers head coach laughed off the notion that some might view Kidd as a potential successor. Vogel said he's had his most success with a strong assistant coach who has playing and coaching experience on his staff.
Kidd interviewed with Pelinka and senior Lakers basketball adviser Kurt Rambis for the head coaching vacancy before the team opted to offer Ty Lue a contract. Lue walked away from negotiations when the Lakers refused to budge from its three-year, $19 million offer.
The Lakers now hope Kidd can help Vogel develop young players such as Lonzo Ball, Brandon Ingram, Kyle Kuzma, and Josh Hart. Kidd also has a strong relationship with LeBron James. As the Lakers focused in on Vogel as head coach, Vogel reached out to Kidd and the two got to know each other with a long phone conversation in which each became comfortable with the other.