BCCHS Boy's Water Polo Finishes Season
If it isn't obvious, water polo is a water sport that is played between two teams. The purpose of the game is that the teams try to shoot the ball into the opposing goal. It is a competitive sport that has 4 quarters. The Birmingham High School boy's first water polo game of the 2019 season was on September 12th against Glendale High School. Birmingham lost 14 – 11. On October 2, they played against Kennedy High School and this time the Patriots won 19 – 12.
The 2019 boy's water polo team has many new recruits and they depend on each other in order to have great teamwork skills to help coordinate one another. Egor Tihinschii (11) is the varsity goalie and he has been a big contributor to the team in leading them to advance.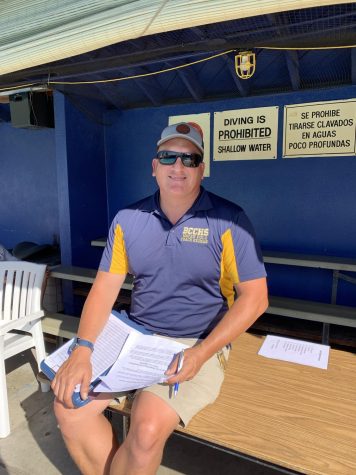 Their most challenging games this season were against Culver City High School and their first tournament game against Pacifica . Birmingham only had six healthy players during this game and were not in the best shape. The odds were in the favor of Culver City and this game resulted in a loss for Birmingham. After their league play ended with BCCHS having a league record of (5-3) and an overall record of (8-7), the water polo team started the play-off tournament.
In their first playoff game, they faced Pacifica High School, and unfortunately, most of Birmingham's top players were injured and the game ended 23-8, with Pacifica gaining the victory.  In their second playoff game, Birmingham also lost and were eliminated from the tournament.
Every year, a new team is formed and so is the bound between teammates. Birmingham's water polo coach Vincent Kezman said, "The team is still trying to form a bond, and the bonding mostly happens outside the pool–for example, when the team goes out to eat." Kezman also said that the team likes their games to be easy, because they are more relaxed during the game."