Ouija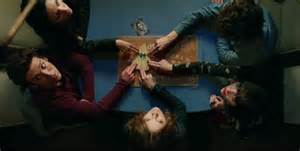 The new Ouija movie was released on Friday, October 24, 2014 and was rated 4 stars with IMDb.  The movie explores the consequences of trying to contact the dead and the bonding of friendship. This movie is thrilling in every way you can imagine. It involves the experience of five teenagers who wanted one last chance to communicate with their deceased friend, Debbie. Little did they know they were not talking to Debbie at all. They had actually contacted a former spirit that soon turned into a demon.
As each one of the friends began to die,  it was up to Laine and her sister Sara to stop this demon from killing both of them. The movie had a great plot that kept everyone on the edge of their seats.  In my personal opinion, I think the movie teaches a lesson about not to ever use  Ouija boards. Based on what I saw at the movie, everyone loved it and thought it was scary. I think this is one of the best horror movies that came out so far in 2014.
But even though it was a good, there was a problem with the ending as it was too simplistic after a complex plot.  The main actors in this movie are Olivia Cooke as Laine Morris , Shelley Hennig as Debbie Galardie, and Ana Coto as Sara Morris, Daren Smith as Trevor, Bianca A. Santos as Isabella, and Douglas Smith as Pete. They did an amazing job playing their characters. I can't wait to see them in other movies, and I do know for a fact that Shelley Hennig had played in the show that used to be on channel 5 called The Secret Circle and she is currently in the MTV show now called Teen Wolf.