California Wildfires Spread Devastation
Every year California experiences a fire season and  it's currently the 2019 fire season. Once the fires start occurring, it's a vulnerable time for Californians because, as we all learned from last year's fire season, the dangers of the fire can possibly increase and more damage will be done. Over the last few months there have been several fires – all ranging in severity, but lately there's been a fire that was really big and even affected our campus. That fire was the Eagle Fire.
The Saddle Ridge fire was one of the strongest fires during this 2019 fire season. The fire broke out on October 11 around 9:02 P.M near the northeast part of the San Fernando Valley. Due to the powerful Santa Ana winds, the fire started to spread in all directions and soon destroyed many structures in Sylmar, Porter Ranch, and Granada Hills. Since the fire was not that far away from school, it was not safe to attend school so most schools in the San Fernando Valley cancelled classes. The Saddle Ridge fire was finally 100% contained on Halloween but by that time, lots of damage had already been done. In total there were 88 structures damaged, 19 structures destroyed, eight injuries, and one fatality.
Another recent fire that caused many people to become distraught was the Tick Fire. On October 24, near the 31600 block of Tick Canyon Road, the fire began around 1:40 P.M. In less than an hour, 850 acres were on fire.  With the high Santa Clarita winds and other minor fires burning, a cloud of smoke reached Birmingham campus. That led to school being cancelled for a second time in two weeks on Friday October 25, due to the poor air quality. The Tick Fire was so strong that it took eight days to be 100% contained. Unfortunately, the fire caused a lot of damage, in that it burned 4,615 acres, destroyed 22 structures, and damaged 27 buildings.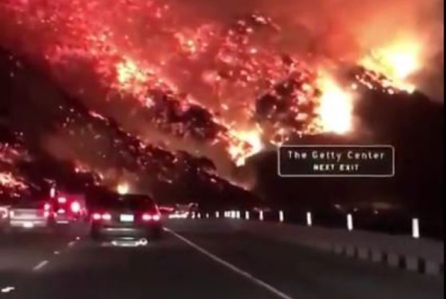 One recent fire that occurred near campus but luckily did not affect us, was the Getty Fire. The Getty fire began on Monday October 28 around 1:30 A.M and quickly started burning away. The fire started near the Getty Center and spread south and west. In a short amount of time, about 600 acres of land had been burned and people were mandated to leave their home in the middle of the night–including LeBron James and his family. The total damage the Getty Fire caused before being 100% contained on November 5, 2019, was eight buildings burned down and 745 acres burned as well.
Since we live in a state that annually experiences wildfires, it's important that we're all aware of what to do once wildfires arrive in order to stay safe. The number one tip is to follow all instructions from our local officials. Officials just want to keep everybody safe, so it's in everybody's best interest to just follow what they say. Anyone suffering from a heart or lung disease should follow their health provider´s advice and contact their provider if any symptoms worsen due to the smoke in the air.
Lastly, before a fire arrives, we should have all our important information such as financial and personal information and a prepared evacuation plan. Hopefully, each fire season does not worsen as the years go by and most of California will not be  drastically affected by upcoming fires.