BCCHS Varsity Football Wins League, Faces Garfield in Playoffs
Birmingham Patriots, we can all agree that our varsity football team has made a vast improvement this season. They went through many hardships at the beginning of season and had to deal with several losses. They may have doubted themselves about how they played. They also may have felt like they weren't going to get better. However, the team kept their heads up and made a strong rebound during league play at the end of season, finishing undefeated in league play 4-0 with one game cancelled due to poor air quality (smoke). The team had an overall record of 5-4.
They developed so much in the preseason by going up against powerhouse football schools such as Chaminade, St. Paul, Crespi, and Sherman Oaks Notre Dame. Birmingham students even built up the school spirit to help our football team raise their positivity and now they're the league champions! The team dug deep, learned from their losses, and they are now preparing for playoffs this Friday night, November 15, at home against Garfield High School!
In order to get a closer look at how our varsity football is doing, this reporter interviewed three of our football players.  How did the players feel about going into playoffs and did they feel that they improved throughout the season?  Hopefully the players don't feel too much pressure since they made it to playoffs. The three players responded to my questions with much energy, the same energy they had displayed throughout the season!
The first student athlete interviewed was Marcus Arthur.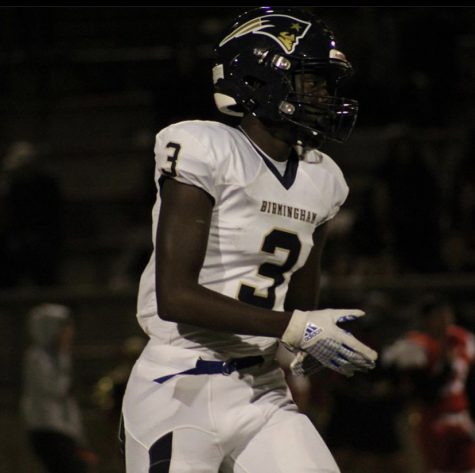 Arthur is a sophomore on the varsity football team. He was asked if he felt like he has made a large improvement throughout this football season. Arthur responded, "I think I've made a large improvement this year because I've been playing positions that I'm not used to playing." When asked how he felt about going into playoffs, he stated, "I feel we're gonna do good during playoffs as long as we do our jobs and make little to no mistakes." Arthur sounded very confident and positive while answering this question, implying that he thinks they're going to do great! He was then asked if there was a huge difference in talent between the JV and Varsity teams. Arthur answered, "I think there is a huge difference in talent between JV and Varsity because only a small handful of players moved up compared to last year."
It could be that some athletes didn't have a positive mindset throughout this season, so Arthur explained what he thought and said, "I think I had a pretty positive mindset this year even though I made many, many mistakes."
Our varsity team has been challenged by many experienced and highly-ranked schools this year. Arthur agreed: "Playing these challenging schools helped us improve because they were tougher and a lot more physical than the teams we play every year.  I think I put the effort in this season because I learned a lot and I'm still learning more."
Lastly, in order for our team to get enough practice, they have to have a schedule. "I think our training schedule will only change the first two weeks because we don't have a game this Friday (November 8th) so the coaches are going to push us to our limit," Arthur said.  Students are hoping to see Marcus give 100% on the field during playoffs!
The next student athlete interviewed was David Sanchez.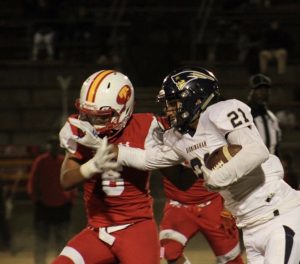 Sanchez is a junior on varsity football. He was asked the same series of questions and he started off by explaining how he felt this season:"I feel like I have made a huge improvement throughout the season. For me as an individual, as I play other teams, I can see what I need to improve on and also learn from other players about what works and what doesn't. I feel very confident going into playoffs as we've worked very hard to get to where we are at, and as a team, we are all hungry and ready to take what's ours and add another championship title to the board."
Sanchez continued to explain about the different levels of football ability and experience. "There is a huge gap between JV and Varsity, and as you play the sport, you realize every level gets a lot faster and more intense. For a lot of the JV players, it's their first year playing football–while for the kids on varsity, they've been playing since they were little or aren't new to the sport. I did have a positive mindset, because you know everybody loses and it's disappointing to lose, but as a team we always picked each other up and just worked harder to make sure we don't lose again. The work has been paying off as you can see we could be champions in a couple weeks. There is no doubt playing those tough teams has made us better, despite losing to them, and we still compete and competing is what makes us better. Why play teams we know we can beat if it doesn't make us better? We're looking at the bigger picture (which is a championship) and what will help us prepare to take that title. I think I put more than enough effort in this season.  I had a couple of injuries that should've taken me out, but I didn't let them, and I'm still at practice and playing in the games giving it my all and helping the team succeed in any way possible." David Sanchez sure did sound enthusiastic about making it to the playoffs.  We all have our school spirit to make them feel more empowered and loved.
The last student athlete interviewed was Arlis Boardingham.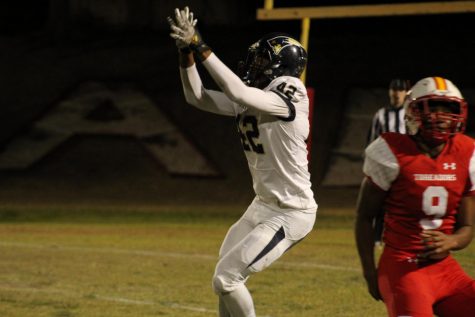 Arlis is a sophomore on the varsity football squad. There are many articles that have been written about him in the local papers. You can easily say he is one of our best players. At such a young age, he still has many stages to go through while already being so talented. Boardingham declared, "I think throughout this season I have improved a lot–not only mentally, but physically as well. Going into playoffs, I feel confident and nervous at the same time. Playoffs is a big deal and we should be sharp. I'm excited to see what we can do!  While trying to be a role model to other young players, you have to keep a positive mindset–even when we lost.  I was thinking, "How can we get better?" and being positive while lifting my other teammates up. I think playing these harder schools really made us better and playing them humbled us and let us know where we could improve. I think I put in a lot of effort during this season but there were places where there could have been more improvement."  Wow…this student athlete was very confident in his choices throughout season and the student body wishes him good luck during the playoffs and hope that they give it their all!
However, is there anything the coaches would like to say about a team that made it to playoffs?  The head coach for BCCHS varsity football, James Rose, is also a physical education teacher. Here are his responses on making it to playoffs this year as well as how this past season affected this team.
Coach Rose explained, "The varsity offense is running the ball more effectively and defensively, our tackling and play recognition is much better. We have been giving up less points and JV will follow. We just keep our normal practice, and we don't need to practice longer just because of playoffs."
Rose continued, "Wake me up when September is over, but it's for the playoffs and to make ourselves better. Some years, we have been 0-5 but we play these teams to get better and it makes our players mentally and physically tougher. Be at practice every day, watch film, and be prepared mentally and physically. I would say you always have doubt when you lose a couple games in a row, and that's when adversity comes in, and are you going to cry about it or work harder to achieve your goals?"
We can all agree that Coach Rose's response was very moving. He may be right as well. To achieve your goals, you have to make mistakes and learn from them in order to grow as a person. Especially an athlete–as they go through the many stages in life. We also wish Coach Rose good luck on coaching his team this Friday night against the Garfield Bulldogs!
We hope to show Patriot Pride and bring home a championship this year!