Got Milk? Largest Milk Distributor Files for Bankruptcy
After 94 years of operation, Dean Foods' glory days have passed their expiration date. On Tuesday, November 12, 2019, this supplier of over 50 brands filed for Chapter 11 bankruptcy protection in hopes of  continuing operation. As of right now, they are planning on selling their company to Dairy Farmers of America. But why? According to Eric Beringause, one contributing factor of their struggle is the decline in American milk consumption.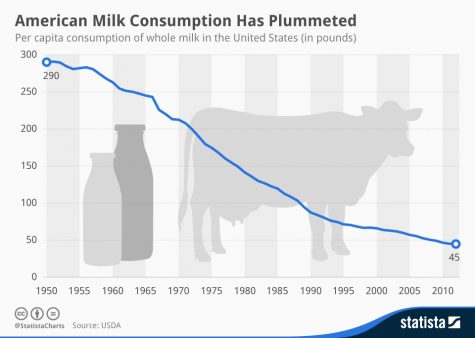 Over the past 40 years, milk consumption has reached an all time low of 40 percent. Individuals in the U.S. have been drinking less and less milk and have many milk suppliers worried. Many investors and companies are trying to understand why this is happening and how to prevent this from happening again.
The main blow to the dairy industry came when huge companies began building their own milk processing facilities. For Dean Foods, Walmart was their main customer and brought in the majority of their revenue. Once their (Walmart's) facility was opened on June 13, 2018, they dropped Dean Foods as a supplier. Another contribution to the dairy industry's decline is a growing preference for dairy alternative products.
The support from consumers for dairy alternatives is a growing trend that may put traditional milk industries out of the picture. As traditional dairy product sales decline, the growing demand for alternatives such as soy, coconut, almond, oat, and even lactose free milk increase rapidly. Why? Americans have a rising desire for new tastes and healthier diets. Many more consumers are willing to convert to the healthier diets, and milk happens to be the first food product to take the hit.
The question is, "What food product is going to be affected next?" As of right now, it is unclear which alternative product is going to cause the food company giants to be on edge.