Los Angeles Comic-Con 2019 Brought Excitement and Wonder
Every year, a certain convention known for showcasing artists and storytelling makes its rounds to several states–Comic-Con. Just this year, on October 12, I had the lovely opportunity to attend the second day of the convention through Birmingham's Animation field trip. Even if I didn't go all the days, this single day alone was full of wonder and excitement.
To start with, the San Diego Comic-Con was founded by Shel Dorf, Richard Alf, Ken Krueger, and Mike Towry in 1970. The convention's main premise was to spread love for comics, but it also opened arms to other art-related media. According to their official mission statement, they wish to raise public awareness, support, and participation in "public presentations, conventions, exhibits, museums and other public outreach activities which celebrate the historic and ongoing contribution of comics to art and culture." Since its grand opening over four decades ago, San Diego Comic-Con has since expanded to become international and now covers a multitude of American cities, including Los Angeles.
One of Comic-Con's most appealing features has to be its Guest Panels. Here, famous creators and companies can showcase their latest updates to a live audience and therefore, hold panels. Panels run on a schedule throughout the whole day, so if you want to see a certain group live, be sure to plan ahead! In the case of LACC 2019, the panel area let convention attendees stand on the floor unless they had VIP access to seats in the area. This past convention, I briefly witnessed a Hellboy panel where the original actors all had a reunion; certainly, these panels hold lots of unexpected awe!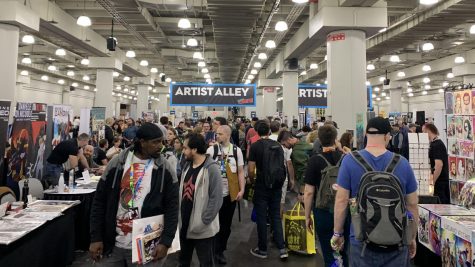 As with most art-based conventions, Comic-Con offers the famous Artist Alley – several rows of alleys where artists can sit and showcase their art and sell their own work. The Artist Alley serves as the central shopping center for the convention, as it's often crowded with people admiring and buying art. At this alley, you'll be happy to know that you can find a very large variety of artists, from the professional field to the indie experience. Additionally, they all have different backgrounds and tastes; you might see realistic illustrative portraits on one hand, but on the other, you might see colorful and cute cartoons. Merchandise varies from artist to artist; some artists like to promote original projects such as games and comics, but many typically sell prints, buttons, stickers, and charms. Some even open commissions, meaning you can pay them to draw you something! Personally, I had a lovely experience buying a commission from the creator of the Webtoon Sunny Side Skies.
Luckily, if you need a break from walking and spending money, you'll be able to hit up the convention's food court and food trucks. You might need extra luck finding spare seats considering how crowded it is, but once you start resting, you can take in the creative sights before you,  featuring the immense amount of cosplayers! Several visitors express their creativity through handiworks rather than visual art, and many are willing to take pictures with you! You never truly realize how cool it is to see someone recreate a character you love in real life until you see it. I know for sure my friends and I took pictures with cosplayers and relished in their hard work!
Overall, LACC 2019 was an amazing experience, and even more so if you factor in how it was my first convention. Of course, going to a convention can be costly, and your feet might hurt at the end of the day, but if you plan well, then going to such an event is guaranteed to grant you a good time. I may have spent more money than I expected, but because of what the convention offered, I would be more than willing to attend again.