Birmingham Football Wins 2019 Open Division City Championship
Birmingham won the Open Division City Football Championship by defeating Wilmington Banning High School 27-20 at El Camino College on Friday, November 29, 2019.  This was the first open division football city title for BCCHS and coach Jim Rose.  After defeating Garfield 34-14 in a Friday night home contest on November 15, the Patriots defeated #1 ranked San Pedro High School 28-25 in a very close and hard-fought game at San Pedro. After moving on to the state playoffs, our Patriots lost 51-23 in the first round on Saturday, December 7, to the eventual CIF 2-A Champions, Pacifica High School from Oxnard, CA. BCCHS is very proud of our football team and can't wait to see what more there is to come for them in the years to come. They brought home a city championship ring! We're glad that the hard work they put in paid off.
We asked some of our players a series of questions about how they feel about winning city–how did they feel? Did the extra practice pay off? What's next for the team? Here are three of our players with their responses. An assistant coach also responded to my questions.
Introducing wide receiver and defensive back, Mason White (12).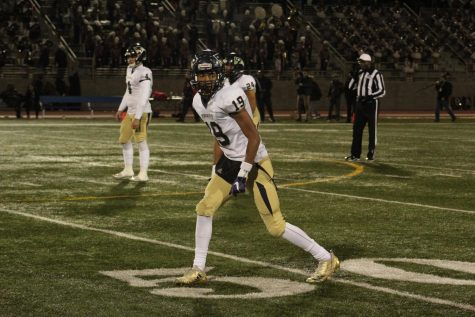 Mason is very hardworking athlete and also a very successful one. How did Mason feel about the whole season and if he thought that all the hard work paid off. He stated, "It feels great. Can't believe all the hard work actually paid off. It feels great proving al the people wrong at school." Mason sounded very enthusiastic when answering and he was very happy about the team's victory. When asked if he put in any extra work to get ready for the city championships, he then added, "No, I didn't put any extra work because I believed we could win and if we did our jobs, we wouldn't need the extra work." Mason White is on to big things and is a very inspiring athlete to his fans and his teammates.
Up next is Gonzo Robledo (12).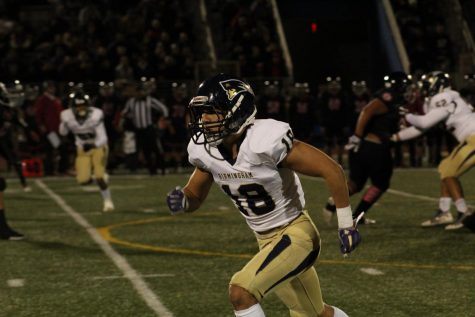 Robledo was one of the most excited players after winning City. He was very proud of himself and he is working harder and harder every day to move forward. Robledo pronounced, "It felt amazing being able to accomplish a year-long goal, but it was definitely better knowing that my team was able to bring back that championship reputation to Birmingham." He knew that winning this city title was going to impact Birmingham's reputation in the best way possible and was very proud. Even though Robledo did have a minor setback, he explained, "I had missed the first three days of practice of that playoff week." That didn't let it stop him, so he worked harder and pushed himself to the point where he was satisfied and helped the team bring back the 2019 City Championship. We wish Gonzo good luck as well, and hope he continues to thrive.
Finally, let's look at Roland Husges (12). Husges plays defensive end on the varsity football team.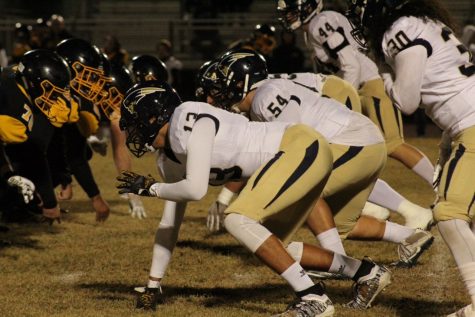 Husges is hardworking and focused, especially when it comes to football. Yet how did he feel about their win and his response was very detailed. Roland declared, "I'm ecstatic about winning city. It's always been a dream of ours to win a championship. Not only for the fact that we're the best in the city, but to be able to bring Birmingham it's first football championship since 2007, and it's an amazing feeling. We made history, but we're not satisfied yet. On to state." It's obvious that Husges was very ecstatic about the win since Birmingham's football team hadn't won a city championship in 12 years. He continued, "All the hard work definitely paid off. All the long days of summer, practices during the week and on Saturdays, and long hours of hard work, it all paid off. Maybe we didn't see it at the moment, but the farther we got into our season, we saw why it was necessary. All our hard work earned us our championship." Husges wants to keep going until he realized that he got what they deserved.
He wants to keeping going and moving up with the team and make themselves proud of what they've done. Lastly, Husges expressed, "Even though we won city, we're not satisfied. We want to be the first football team in Birmingham history to make it to the State Championship game and win yet another ring. We're still working as hard as ever, every day." Husges and his teammates will continue to thrive and reach for their destiny.
One of varsity football's assistant coaches, coach Dario Avila. Coach Avila seemed very proud of their victory, and was relieved that his coaching helped them toward their victory. Avila said, "This was an amazing senior class, led by Mason White, and it was a joy to watch them close-out their high school careers with a championship." It sounds like our coaches will be missing the leadership of the senior athletes on the team. He explained, "The hard work definitely paid off, especially after coming up a little short in the playoffs the last few years." Avila reminded us that our varsity football team did go through many hardships throughout the season, but they never gave up. He added, "The players are excited to continue playing and practicing for state. Although, we've been hit by lines and are a little banged up, we are happy to have an opportunity to win state."