Australia Is Going Up In Flames!
In September of 2019, Australia faced—and continues to face— its largest and deadliest conflagration of brushfires with at least 200 fires burning. 
During the summer, there is a long fire season in Australia which allows blazes to start and spread effortlessly due to hot, dry conditions. According to ABC Weather, "Western Australia was particularly dry, as well as hot, recording its lowest spring rainfall, highest average temperature and highest mean daytime temperature." Due to high heat and dry weather vegetation, Australia has become a tinderbox (dry and flammable material ready to ignite). Hot, dry conditions and tinder vegetation have birthed "mega blazes" and many individual smaller brush fires.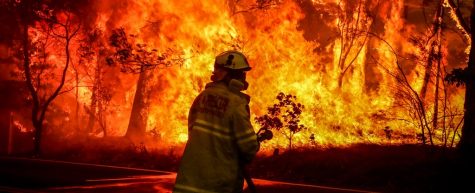 On October 26, according to The Sydney Morning Herald, "One bolt made ground near a disused airstrip at Gospers Mountain, a densely grown area of the Wollemi National Park, and pricked the kindling into life." Vegetation was easily ignited and the fire rapidly spread on Gospers Mountain in New South Wales (northwest of Sydney) which led to the Gospers Mountain Fire. The Gospers Mountain Fire is linked to multiple separate fires making it Australia's largest "mega blaze" from a single ignition point. It is not only set apart from other fires based on its size; what makes it different is that it is burning in populated areas.  It has burned nearly 2 million acres, destroyed dozens of buildings, and took the lives of 8 people— two of which were firefighters.
Fortunately, the Gospers Mountain fire that has been burning for nearly 3 months has now been contained with the help of cooler conditions and recent rainfall. On the other hand, there are an estimated 60 fires still burning in southeastern Australia, some contained, while others are still burning out of control. The total amount of acres burned is far larger than what we saw in the Amazon rainforest fire in late September of 2019, which had an estimated amount of 2.2 million acres burned. As of right now all the fires in Australia, both contained and not, caused the destruction of roughly 25 million acres, burned away countless trees, killed an estimated 1.2 billion animals, ravaged nearly 3,000 homes, caused at least $485 million US dollars in damage (which continues to rise), and at least 30 lives have been lost—including four firefighters.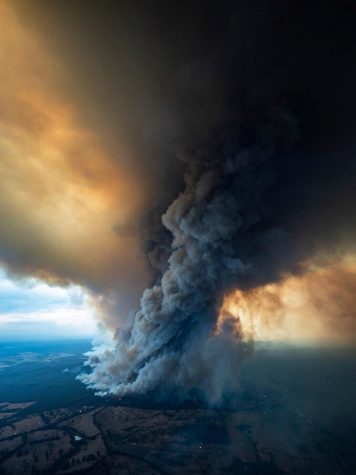 These blazes are also leading to fire-induced thunderstorms that are exposing our upper atmosphere to soot and ash. According to a top expert in greenhouse gas emissions at Australia's national research agency, these fires have produced the same amount of carbon that Australia emits from man-made sources within 8 months. European Union's Copernicus Atmosphere Monitoring Service also announced that the bushfires have released 400 megatons of carbon dioxide into the atmosphere and is still growing. Many scientists knew a situation like this was bound to happen but didn't expect such an intense fire season this soon. Scientists are expecting more extreme wildfires in the years to come.
Even with fires winding down in Australia, the pollutants released by these wildfires are expected to threaten Australia even further. The biggest threat is all the smoke. As stated by the U.S. Environmental Protection Agency, "These microscopic particles can get into your eyes and respiratory system, where they can cause health problems such as burning eyes, runny nose, and illnesses such as bronchitis. Fine particles also can aggravate chronic heart and lung diseases — and even are linked to premature deaths in people with these conditions." Such massive amounts of smoke leaves older individuals, children, and individuals with cardiorespiratory diseases or chronic illnesses especially vulnerable. The fires are not only affecting Australians, it's beginning to affect neighboring countries and soon all around the globe. Australia's neighboring country, New Zealand, was the first affected. The beautiful blue skies of New Zealand have turned an eerie yellow haze and the snow covering their mountains have turned a pale brown within 24 hours of the Australian wildfires burning. So far, smoke from the Australian fires traveled across the Pacific Ocean and has reached cities in South America, such as Chile and Argentina which have reported grey skies and red sunsets. Thankfully, due to the distance, smoke does not pose a threat to health among individuals in South America and beyond that.
We may not be directly affected by the Australian fires, but many experts are pointing out climate change as the leading cause which affects every single human on this planet. This is why a bushfire, or "mega blaze" in one country, quickly becomes everyone's problem worldwide. Climate change is making weather conditions much more intense, provoking earlier fire seasons for Australia. These fires aren't going to end completely due to the fact that they occur annually, but these fire seasons are expected to grow or lengthen and become much more intense in the coming years.