BCCHS Girls Water Polo Wins LA City Championship
Blood, sweat, and tears – the three things that come from countless hours and sore work. Different kinds of people go through this all the time, but you really have to ask – why? Why is it that people are willing to tire themselves out and go through hardships?  It's because of a passion, and a desire to succeed in that passion. This, for instance, is why athletes do what they do. And for Birmingham's varsity girls' water polo team, all of their efforts proved to be worth everything they put into it.
To discuss the team's road to the city championship and ultimate victory, I interviewed goalie Dafne Aceves (12). To remind readers, BCCHS defeated Palisades High School 17-16 on Thursday, February 20, in a thrilling, come-from-behind victory in the championship final match that left the Valley College crowd thrilled and stunned.
I started off by going into this year's season: how did it go and was anything different? In her words, "the season was abnormally long this year," with the season usually starting mid-November and ending in early-February. This year was different, since they "went up 'till the beginning of March." She said this made it hard to balance practice and schoolwork, but the season was also good for the team. Everyone grew closer and relationships developed to support "both outside and inside the pool." Notably, they competed in various tournaments; some required them staying the day under the sun, others had them playing games in the rain.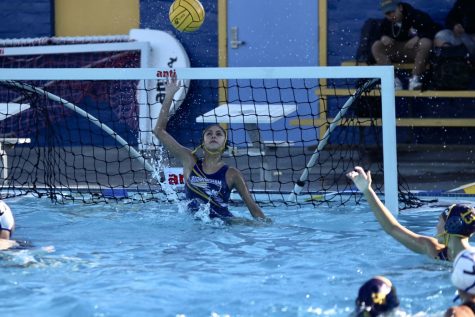 It is interesting to take a look into what the practices are like for the team. As it turns out, practice for water polo almost never stops for these hard workers. Even months before their season started, they were training over summer. Their tough practices included: swimming for an hour, conditioning, holding water jugs above their heads for leg strengthening, and scrimmaging against each other to simulate an actual game. The discovery of competing for championships amped up everyone's focus; at this point, they were polishing off techniques. The team seems very close to each other, as they hang out often and do team-bonding exercises, but this doesn't stop their serious mindset in the pool!
Last year, our girls water polo team also managed to make it all the way to the city championship finals. They unfortunately lost to Palisades, but Dafne stated that when the team found out they were going against them once again, they "were more excited and pumped" to "reclaim [our] their title as champs." After so much work, the team was ready to win – especially for the seniors.
Dafne said that when the girls won, "it was such a relieving feeling. All the tan lines, bruises, weekends sacrificed to tournaments, and late afternoon workouts were all worth it." It is definitely transparent that the team has a strong love for the sport, and that they finally felt it all paid off to have won such a huge accomplishment. As for the seniors, this is especially true as they've spent four years with the team.
This redemptive story about our girls water polo team is one of an uphill battle, love for a sport, and a long-awaited triumph. After what seemed like so long, the girls have finally taken back their championship and ended their season with a blast. With this, we can only congratulate and feel utmost joy for them – good job girls! Everything you've endeavored this year has resulted in a fruitful moment, full of accomplishment and happiness!