Get the Vaccine and Receive Freebies and Bonuses
Many people are still hesitant about getting the vaccine, so now America is looking to give them a nudge. In that suggestive spirit, many companies are giving out freebies to get the vaccine-hesitant on board.
These incentives depend on location and which companies announce for which incentive. One of the reasons companies want to do this is because they want to reward Americans who were vaccinated with special offers after getting their shots.
Krispy Kreme is giving out one free doughnut every day if you take your vaccination card to any Krispy Kreme location in the U.S. The card must show one or two shots of any Covid-19 vaccine to qualify and it must be redeemed in-store. You don't need to purchase anything first to get your daily free doughnut. The offer will continue through the rest of 2021 and you can keep going back every day if you really want to.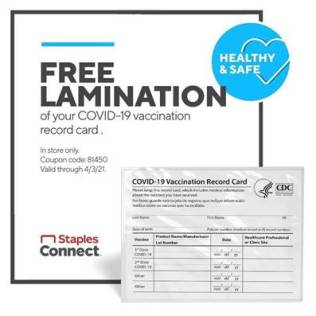 Staples announced they are offering free lamination for your vaccine cards which expired on April 3 but extended the offer until July 31, 2021. The coupon code for the lamination is 81450 and the deal is in-store only. It only applies after you get a second vaccine dose marked on the card or unless you get the single-shot Johnson & Johnson vaccine.
Although you have to be aware that some archivists are warning that laminating your vaccine cards could smudge the print or damage the card over time if you plan on seeking them for the long term.
Uber and Lyft are giving out free or discounted rides and you don't exactly need to be vaccinated first. They are offering free or discounted rides to and from the vaccination center where your appointment is located. The deals may not be available in every state just yet.
Many companies are offering their employees a cash bonus after getting vaccinated. Kroger is offering their employees $100 in store credit for getting the vaccine. Publix is offering their employees a $125 gift card. Petco is giving its employees a $75 bonus for the vaccine.
Many companies are offering paid time off to get the vaccination like Target, McDonald's, Aldi, Trader Joe, and Dollar General. They are offering employees up to 4 hours of paid time off to go get their vaccination.