Lionel Messi Leaves FC Barcelona, Joins PSG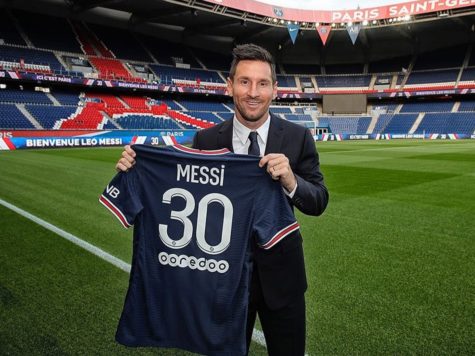 After a lot of speculation, Lionel Messi is accepting his deal with Paris Saint-Germain(PSG), a soccer team located in Paris, France. After spending more than 16 years with FC Barcelona, Messi decided to leave the club and join PSG. He signed a two-year contract which apparently will pay him 41 million dollars annually, not including bonuses. What could be the reason for this landmark deal?
Before joining PSG, Messi had a long history of playing for FC Barcelona. He played with them for more than 16 years and made his official debut on the team at the age of 17. Before joining Barcelona, he played for a club called NOB(Newell's old boys) that is located in Rosario, Argentina. He was first recruited to NOB at the age of 8.
Besides PSG, he also plays for the Argentina national football team. Messi's history with Barcelona is one that dates back to the early 2000s.  At the time, he made history by putting himself in the record books as one of the youngest players to score a goal for the franchise.
So why did Messi leave Barcelona? There appeared to have been contractual issues when Barcelona wanted to resign Messi. Due to league regulations on player registration that were introduced in 2013, there was a floating salary cap applied to all teams. This made it impossible to resign him. Messi was ready to lower his salary by 50% so he would be able to stay with the team, but due to the regulations, it didn't happen.
After a long speech goodbye to his old team, Messi agreed to a contract with PSG. They also happen to have many other talents like Neymar, Sergio Ramos and Kylian Mbappé.
With a promising new addition to an already talented roster, one could only imagine how good of a team this club will become. The club was already ranked number 1 in Ligue 1, the top division of French football.
Nobody is quite sure if Messi will stay with the team after his contract expires. If he does choose to stay, then we could be witnessing the birth of a new relationship between Lionel Messi and PSG.