Winter Choral Concert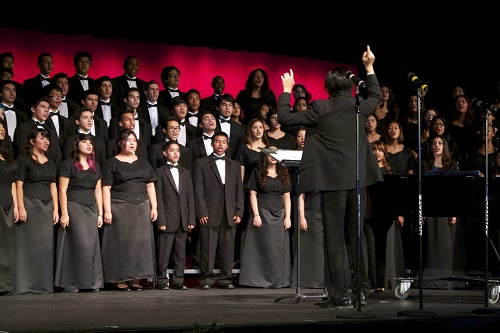 Birmingham's Winter Choral Concert took place in the Sally Field Performing Arts Center on Thursday, December 4th. Wonderful performances by BCCHS's Concert Choir, Women's Choir, Chamber Singers, 16 Voices, and some very talented soloists were featured.
Along with some classic songs such as The Star Spangled Banner, there were many Christmas themed pieces as well as decorations. The night definitely gave the sense that the holidays are near. Birmingham's own adorable Paula Sargent was the guest soloist, singing Merry Christmas Darling.  Mr. Suffolk, the Choir teacher and Director, dedicated the song An Irish Blessing to all those who had family members and friends who could not make it home for the holidays regardless of the circumstances. He also dedicated the traditional anthem Amazing Grace to BCCHS alumni Isaiah Hastings and Alex Manu.
There were several senior soloists, such as the dynamic duo Adam Punzalan and Darian Ramirez who performed What Are You Doing New Years Eve? by Frank Loesser. With Adam on the guitar and Darian on the ukulele, both musicians wowed the audience. Other amazing senior soloists included, Megan Garcia and Adam Punzalan singing Mistletoe by Justin Bieber and Laurence Guillermo singing White Christmas by Irving Berlin. 
Towards the end of the night, the Concert Choir sang the BCCHS Alma Mater along with an outstanding performance of Carol of the Bells. The night closed with both the choir and the audience joining and singing along to Silent Night.