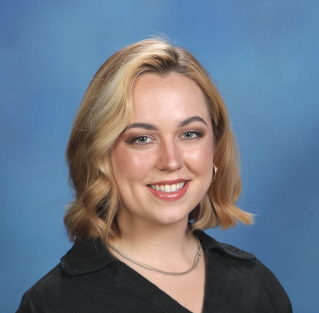 Fun spirit weeks, exciting pep rallies, and school dances are all here at BCCHS thanks to the ASB team. ASB uses the resources of all their staff including the ASB advisor to progress. The ASB advisor and the students work together simultaneously to make the Birmingham campus a fun, and lively place to be. Since Ms. Hailey Rubinger stepped down from her position as ASB advisor, students may wonder, who is the new advisor?
Ms. Cailyn Knudtsen has taken over as the BCCHS ASB advisor to better help the students experience the excitement of student activities. Knudtsen is already showing her effectiveness around the campus as she recently oversaw Club Rush, a wildly popular event, and that is a positive sign that many eager students gathered together to sign up for over 40 clubs offered at BCCHS. It's clear that this year is going to be an amazing one as the ASB gets help from Ms. Knudtsen and they work together for all of the students here on campus.
After speaking to Ms Knudtsen, she gave me some insight into her past. She was originally a long-term substitute subbing in for Ms. Komin's visual art classes during the 2023 spring semester. She seemingly fell in love with Birmingham and wanted to continue teaching here in her field of visual arts. Unfortunately for her, no permanent art teaching jobs were available for her to take. 
Since she couldn't get a teaching job in art, she scouted any other job that was available. Her interest was piqued by the ASB advisor job and she wanted to try it out. She said, "ASB at this school is on another level than it is at other schools" due to it being a full-time job here while other schools make it a side gig for teachers to do.
Story continues below advertisement
 Despite the workload put on her with this intense position, she wants to do everything she can to help the students in ASB work as hard as they can. She explained that because ASB pushes themselves really hard into doing so many difficult classes and adding more extracurricular activities as well, she wants them to learn to slow down and not put so much pressure on themselves. That's one way Ms. Knudtsen will support the ASB students. 
ASB will change a little this year as a state-wide program because they want the ASB advisors to be even more focused on being resourceful on the money spent for the school. For example, giving away stuff like little freebies can be considered wasteful, so they'll find a better way to give things out with the money so it's evenly spent on all the students. This is the only major change Ms. Knudtsen will make in her position. As she said, "I just want to make sure that all of our spending is very purposeful." She also wants to use the budget for more school-related events like sports.
If you plan on joining ASB. you have to be ready to do everything you can to help out others. Ms. Knudtsen told me about the type of people she wanted in ASB–people who work hard and actually want to be there. ASB is known for being a great thing to have on a college application, which causes many students to join ASB, but some still proceed to slack off in the class. Ms. Knudtsen told me, "I want them to be here because they want to, and in the end, make the school a better place to be. ASB's purpose is to want to make people enjoy coming to this school." 
Our new ASB advisor shows great promise for our school for years to come. Students should expect to have a great year thanks to ASB, and Ms. Knudtsen has shown us good proof of that. I saw firsthand how much of a hard worker she is as she discussed nonstop with staff and students about how to improve the school.