Girls Varsity Basketball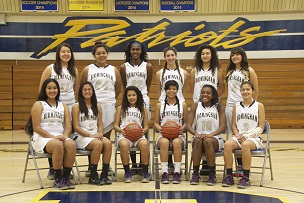 Carlos Vega & Christian Ayala, Sports Editor
February 20, 2015
 Girls basketball here at Birmingham Community Charter High School is just like what many people expect–it is competitive. The girl's basketball season started on January 14, 2015 with their first game against Granada Hills said basketball star Karla Aguirre.
 The Lady Patriots hold a current record of six wins and four losses. They are playing hard to make sure that "those four are our only losses", said Aguirre. This positive attitude will lead these girls to a successful season. The team's starting five consists of Angel Rivera at point guard, Karla Aguirre at shooting guard, Ashley Pesanti at small forward, Taneysha Davis at the power forward, and Jerica Washington at center.
The team's coach is Victor Koopongsakorn. He is a physical education teacher at BCCHS. Mr. Koopongsakorn is a new coach at BCCHS but he has been coaching for a long time and "has a lot of experience" according to the team. The team has high expectations this year and have high hopes of winning a championship. Since the varsity team is made up of mostly seniors, they feel it would be very special if they win the City Championship Title in their last year at Birmingham.
When asked about who's been having an MVP-like season, shooting guard Karla Aguirre said "We're all the MVPs." The girls have their first playoff game this Saturday, Feb. 21. We will have to wait and see how the game turns out while we hope for the best for our wonderful Lady Patriots on their fight to win a championship.