Featured Teacher: Mr.Kelly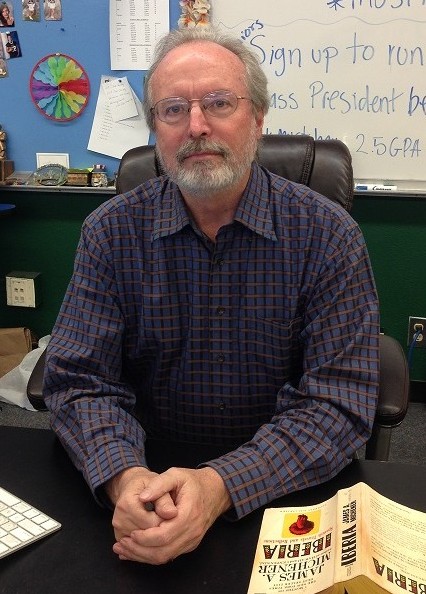 Mr. Kelly was the elected teacher for the Featured Teacher by the Journalism staff.  He has been a favorite teacher for many years by many of his students.
What did you do before you were a teacher?
Mr. Kelley was Writer/Producer/Director of movies from 1978-2000, He produced about 50 movies; worked for an educational movie company, worked in aerospace at TRW;  made Disney educational films; worked in Arizona in the television industry; and traveled the world having several adventures (Birmingham's personal "Indiana Jones").
What made you want to become a teacher?
There was a series of documentaries based on education in Texas that intrigued him to become a teacher since film making became too demanding. He thought it would be interesting to become a teacher.
How long have you been a teacher at Birmingham?
Mr. Kelley has been teaching at Birmingham for 15 years.
What made you want to take on the responsibilities of being the film teacher and the supervisor for Leadership and student council?
Mr. Kelley always took on major roles while working in the film industries, so when he came to Birmingham and there wasn't a film program, he then created the program. Due to his comfort with dealing with people and experience with being a producer, he chose to take on Leadership and student council.
Where other places other than California have you lived?
Places that Mr. Kelley said he lived for a while include:
Denver, Colorado (Hometown)
Lausanne, Switzerland (Family moved for 1 year)
Paris, France (Favorite place, lived here for leisure)
Saudi Arabia (Work)
Rome (Work)
What sports did you or do you play?
Mr. Kelley played basketball, soccer, track, and was a ski instructor in high school and college.
What colleges did you attend?
"I attended several colleges, including the University of Portland, the University of Colorado at Denver, and then returned to Denver."
What are your plans after you retire from Birmingham?
Mr. Kelley says he wants to write another novel, move back to Denver, and  just continue to write.