Promposals
Since childhood, we have been exposed to the idea of prom and how it is an important night in our lives. Everyone has become familiar with the tradition of having to buy a dress or rent a suit, and ask a girl or guy to prom before the day of prom comes. They also have the idea that we must ask out our date in a special and public way.
The classic proposals tend to be cheesy nowadays. For example, asking them using food, making them solve a puzzle, or go through a scavenger hunt. Asking someone to prom in general is nerve-racking already, but to decide how to ask someone is an even bigger deal. Will a person go with a 'go big or go home' idea such as renting a horse and asking if she'll go "Yay or neigh"? Or will a person go with a simple poster? But, regardless of how you ask your date to prom, they will appreciate the fact that they were asked.
When considering how to ask someone to prom in a big way, you should do it in a way that is meaningful, comedic or both. If 'bigger the better' is your approach, it would be a good idea to have a group of friends help with the organizing of the prom proposal, but just make it clear you are the one asking them.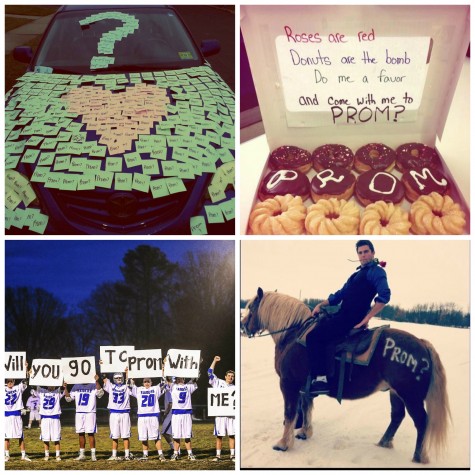 There is also an argument on whether a girl could ask a guy other than a guy asking a girl. Normally it is the guy who asks a girl, but there is nothing wrong with a girl asking a guy to prom. Even though a girl asking a guy isn't common, girls shouldn't be discouraged about asking a guy to prom because it is a new change and makes the prom asking experience different for everyone else.
Also, keep in mind that one doesn't need a date to have a good time. Simply going with some friends sounds like fun. If anything, ask them in a funny way and that will work too.