Varsity Baseball Tournaments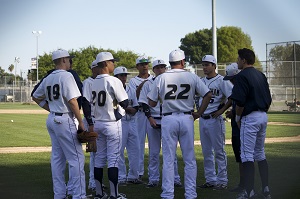 For the past two weeks the BCCHS Varsity Baseball Team has played two tournaments. They played one tournament in San Diego over spring break and then they played the Boras Classic the following week. The team played a total of eight games in both tournaments and won three of the eight games. I was able to have the opportunity to sit down with second baseman, Alex Stellpflue, and talk about the tournaments.
The baseball team played frequently throughout the two weeks and Stellpflue said that the team wasn't fatigued during the first few games, but in the games that followed, he saw fatigue throughout the whole team. The team played four games in San Diego and competed every single day. The Patriots won two games and lost two games at the tournament in San Diego. The team did need some time to relax while they were in San Diego and in their spare time the team went to play laser tag and the coaches took the team out to Buffalo Wild Wings and bought the team whatever they wanted. In the Boars Classic, the Patriots won one game and lost three games.
When asked what game he enjoyed playing the most was, Stellpflue replied that it was the third game in San Diego because the team played as a whole and came out with a 9-2 victory. The team also had fun that day because it was April Fool's Day and they did an April fool's joke by putting the pitcher behind the plate as the catcher and then putting him back as pitcher before the game started. There was also some trouble with the team getting along together throughout both tournaments because some players got tired of seeing each other every day, but others didn't. Stellpflue said that if there were problems within the team, the players would get over it quickly and get along with each other. Unfortunately, this is Stellpflue's last year playing baseball for Birmingham and he said that the charter buses, along with the coaches being more relaxed in their off time, made the tournament very memorable for him. He stated that the coaches wanted to make these two tournaments memorable for the team as a whole.