Birmingham's Lakiyah Wagoner, Two Time National Wrestling Champion
When you first see fellow Patriot Lakiyah Wagoner roaming through BCCHS's halls, you think she's just a regular 11th grade girl going through high school. Little would you know that she is the two time State and National Wrestling Champion in her weight class! She defended her title this year and successfully won back to back National titles. She accomplished this great feat at the young age of 16 and she's not done yet. Lakiyah will give it another go next year as a senior. It will be her last year at Birmingham and she's looking to three-peat.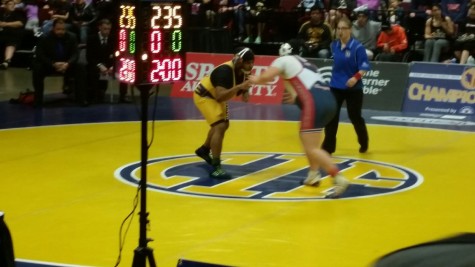 Wrestling is not as well known at this school as other big sports so it may seem a little complicated. To clarify, the CIF State Championship and the USA Wrestling Girls Nationals played in Visalia and Oklahoma are governed by Folkstyle Wrestling rules. The Folkstyle discipline is defined as "a combative sport where one wrestler tries to physically control the opponent against their will without injuring them". The match is divided in 3 two-minute periods, all of them beginning in different wrestling positions, the first period begins in a neutral position, with both wrestlers on their feet facing each other. The second and third period one of the two wrestlers can choose in which position they are going to start: neutral, on top or on the bottom. On the third period the other wrestler choses how to start, having the same options. Choosing the position you how are going to start is more complex than it seems. Being on the top seems to be the best option since the wrestler on top begins trying to break down the opponent and turn the opponent's back toward the mat, having the possibility to score 2, 3 or 4 points.
Although being on the bottom is the hardest situation because the wrestler will be trying to get out of the top wrestler's control and escaping from or reversing the offensive wrestler, most wrestlers will choose being on the bottom if it is easier for them to escape than it is keeping their opponent under control in either beginning on top or neutral position.
Ironically, Lakiyah joined wrestling as an escape route from taking swim classes. To this day, Lakiyah does not know how to swim but she does know how to win championship titles. According to Lakiyah, this second title was "a lot harder" because past opponents were "out to get her." In addition, she was out half the season due to injury and when she did come back, she had to do a lot of training. A little-known fact about Lakiyah is that she has asthma, which makes it harder for her to breath at times when she's wrestling. She worked on her endurance last summer in order to better her performance this year. When asked about her final match, she said "it was a lot of pressure and liberating when I finally won."
Another fun fact about Lakiyah is that she goes in every match with a pessimistic attitude! That's right, she told us she believes she's going to lose every match she enters. Ironically, she has won almost every match needed to become a two-time national champion. When asked about her hardest obstacle to overcome this year, Lakiyah said her hardest match was the State Championship Final against Vicky Espinoza, who was also the opponent in last year's State Championship Semifinals! This match went to double overtime and Lakiyah just managed to escape the mat with a one-point victory.  After this "thrilling" and "exhausting" match, Lakiyah shared that she was "extremely happy." After the State Championships, the Nationals were a breeze for Lakiyah. She reclaimed her title with a dominating 5-0 victory at the National Finals. After her triumph, she was treated to a hearty and rewarding steak dinner. She celebrated her victory with her closest friends, coach, and family.
Lakiyah never thought she would gain so much success in wrestling because she just joined it as an escape route from swimming. Her parents are especially proud of her because they never expected the results she managed to take home. Her parents are "very proud of her" and "proud she has found something better to do" and enjoy seeing their daughter doing something productive that obviously is bringing joy to her and she's great at it! According to her parents, they thought "she'd play wrestling" and were expecting her to do well eventually. When it came down to her and winning, they were super excited and extremely happy she had done it, twice!
When the people at school hear the name Lakiyah, they know what's up, especially the sports enthusiasts. When we asked Coach Jim what his thoughts on Lakiyah were he said that he "wanted Lakiyah to pin everyone." He also felt "so proud of her" because after all he nurtured the novice and watched her grow into the amazing athlete she is today.  Coach Jim did not expect Lakiyah to reach such a high skill level so quickly to the point where she would become champion. He said "I did not doubt she would win, but winning as a 10th grader was unbelievable. I thought maybe as a 11th grader or 12th grader, but as a 10th grader; it blew my mind." He also stated that she is very gifted at the sport and is a natural athlete. Lakiyah's good friend, Brandon Bond, told us that when he first met her "she looked like a natural." He also feels a bit jealous because she does so well! They have been friends for three years and met through wrestling. Another thing that surprises him is that "she's so small compared to everything" and that "she gets so nervous off the mat, but once she is on it, she does what is necessary." Lakiyah is an amazing person with diverse traits that make her a student-athlete that you would want to meet.
 ——————————————————————————————————-
This year we have an another outstanding student wrestler at BCCHS. His name is Davit Stepanyan and he managed to get as far as one match away from placing top 12 at the Nationals and State Tournament in wrestling. He is also our state champion for the wrestling off season. Davit is an outstanding wrestler and believe it when we say he started off when he was 10! His inspiration came from his cousin who wanted him to do wrestling. A typical week for Davit is training Monday through Friday twice a day. Davit wrestled at the 195lbs weight class during the off season and his weight class is now 220lbs. Like any other sport, wrestling can become very difficult. There is no easy sport out there, but wrestling is classified as one of the hardest due to its physical demands. Davit can agree as he told us that his most difficult match was "when I lost to Covest high school by two points this season." Wrestling is a very close sport and two points can mean everything for a wrestler. His future plans in wrestling are to one day wrestle freestyle.