Prom 2015 "Diamonds are Forever"
"Diamonds are Forever" was the theme for this year's senior Prom. Seniors gathered around at the Wallis Annenberg Center located on the California Science Center grounds waiting to enter at eight. Beforehand, people waited in the beautiful rose garden with their dresses and their tuxes surrounded by their peers. The seniors streamed into the newly open center and were encompassed by the collection of tables and diamond filled center pieces. Food and dessert was served throughout the entire event with plenty of refreshments for those who got tired of dancing.
Once the eating portion was over, students made their way to the dance floor for a night on their feet. The DJ switched it up between slow songs, Hip Hop and Spanish music. The crowd loved it as it provided for a good time for the couples and a good time with those who just wanted to dance with their friends. The DJ did a great job providing long lasting dance sessions and memories everyone will remember.
The president of the prom committee, Sara Zhobin, did a wonderful job making sure the seniors could captures as many memories as possible. There was a photo booth where couples and friends lined up to take silly pictures with props. The line for pictures was long the entire night allowing some people to capture these memories more than once. There was also a professional picture studio present. White Studios was there to capture pictures of those who wanted pictures they can keep for a lifetime.
King & Queen was announced later in the evening closer to the end of prom. During the time of dancing and eating the nominees for king and queen disappeared from their friends and went up to the second floor of center where they waited to come down and be crowned. They nominees walked down a beautiful staircase where they were met by their fellow classmates who applauded the entire time. There was a dramatic pause before Darian Ramirez, and Adam Punzalan were announced prom king and queen. The audience erupted in smiles and cheers for the two as they take their first slow dance of the evening.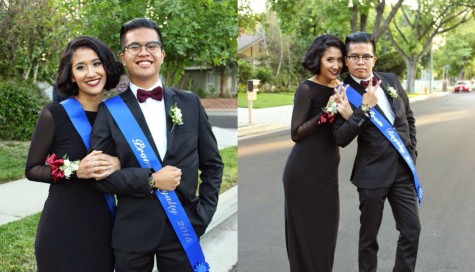 Overall the night was a success, as seniors posted photos of the night over all social media platforms days after the prom took place. Timelines were filled with pictures of friends having a great time and were always hastagged #prom2015. Diamonds truly are forever just like the memories the senior class of 2015 made May 9, 2015.