International Students Excited to be BCCHS Patriots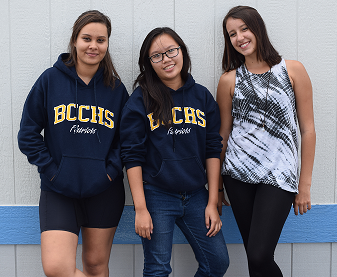 Three international students, Lizandra Freitas Lima de Carvalho, Victoria Mazzone de Castro, and Cindy Ngo Huynh Uyen Phuong , share two common interests: Birmingham Community Charter High School and the Foreign Exchange Program. I had the opportunity to sit down with these lovely girls and ask them some questions about themselves and how they've adapted to their new lives in America. It came down to an inevitable consensus among the three girls that coming to America was, and continues to be, a big change in their lives. I also had the privilege to talk with Mrs. Zeller, Assistant Administrative Director for BCCHS and the administrator in charge of the Foreign Exchange Program.
Mrs. Zeller, who has over 30 years in education, discussed the Foreign Exchange Program and she stated that this year we have new students from eight countries around the world. Mrs. Zeller said that the students in this year's Foreign Exchange Program are very eager and ready to learn new things and she encourages all students to not only interact with each other but to also interact with the students within our Foreign Exchange Program.
Cindy, 17 , was the first girl I interviewed. She approached me as I prepared my questions and I recognized her from my Introduction to Psychology class. When I told her about the story I was writing, she immediately asked if she could be interviewed. Cindy traveled 8,568 miles from Vietnam to the U.S. with a bright attitude and willing spirit. She passionately conveyed her experience at her old school to me. Cindy went to school from 6:30 in the morning to 5 o'clock in the evening! She spoke of her many friends at her former school. Cindy says she misses her traditional food and motor bike that she would ride around all the time. Cindy states that she loves the freedom that rings throughout America. Cindy closed off our interview with saying " I'm good at meeting and making new friends; I am also good at speaking English."
When I first sat down with Lizandra and Victoria I noticed a connection between them. Before we went into depth in our interview I asked them if they were sisters. They both smiled at each other and laughed. They corrected me and told me they were just friends and that they had met through the program. After the giggles subsided, they told many things about their daily lives. Victoria, 16, says her experience here at BCCHS has been fairly easy and exciting. She stated that her classes and daily routine now is much easier now than back in her home country of Brazil. Lizandra, also 16, agreed with Victoria.
Both girls talked about how they miss their families who stayed back home. Victoria says she enjoys dancing ballet and jazz, only two styles from her vast repertoire of skills. On the other hand, Lizandra enjoys dancing to Brazilian music. Both Lizandra and Victoria say they miss the Brazilian cuisine they'd enjoy back home. With a smile, I asked both girls what has been the funniest and strangest experience they have had so far. Lizandra quickly smiled and told me about her experience in seeing Justin Bieber, teen heart throb , in person.