UFO Sightings or Navy Testing Over the Pacific?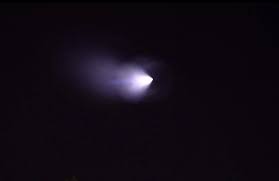 On November 7, 2015, the first Saturday of the month, residences from both California and Nevada saw an orange light move across the sky and evolve into a large circular blue light. The next day in South Africa, saucer-shaped clouds were seen in the sky. Julian Solomita, a popular vlogger and Viner, recorded the event while going ballistic with his friends.
Soon after the event, the government released a statement that said it was a Trident missile test from the Navy. A Trident missile is launched out of a submarine and are ballistic missiles- which mean they have a large arching fall. The Nay spokesman told The San Diego-Union Tribune, "The Navy strategic systems programs conducted the scheduled Trident missile test flight at sea from the Kentucky, an Ohio-class ballistic missile submarine, in the Pacific Test Range off the coast of southern California. Nighttime flights that are coming and going from Los Angeles International Airport are supposed to avoid passing over the Pacific due to the military using that air space.
Even though the government sent out a statement, a lot of people still don't believe that it was the truth. A large percentage of people still believe that it was actually a UFO. The Navy said that they don't usually announce these sort of things beforehand because it involves secret information, but people still feel like it sounds too much like a cover story. Others also feel like the lights were involved with the Taurid Meteor Shower- an annual meteor shower associated with the comet Encke. The shower is known for having a lot of extremely bright meteors, which are called fireballs, but they are not usually so visible in this area. People also assumed that it was a star dying and exploding.