Birmingham's Boy's Water Polo Recap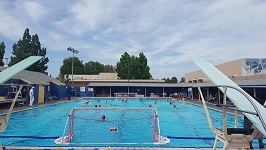 All throughout the season, Birmingham Community Charter High School athletes have kept alive the tradition of winning.  Birmingham's team players always give their best effort when competing with different schools. Working hard with training, our coaches do an excellent job of helping our team players be successful. During this season, the BCCHS Men's Water Polo Team has been on top and winning. With their overall record being 22-6, the Patriots have been winning with just a few minor errors along the way.
The water polo team started off with a winning streak, having won 21 and only losing 3 games out of the 24-game season. They encountered challenging teams at other schools, but nevertheless, they had conquered (with the exception of a few losing games) and brought pride to our school. The water polo team competed against Calabasas and lost the match 10-3. The second game lost was against Granada Hills with a close score of 9-8. Lastly, they lost their third match against Palisades, by a lopsided score 0f 19-3.
Despite having those losses, the water polo team vanquished Cabrillo (winning two games in the competition), Culver City, Venice, Burbank, Granada Hills and despite the team losing one game against Granada Hills, we got Granada back by winning 8-6, and it can be said they were tough, but we kept our ground. We also defeated  San Pedro, Taft, Cleveland ( twice), Eagle Rock, Chavez, Verdugo Hills, Van Nuys, El Camino Real, Alemany, Kennedy and LA CES were all defeated by Birmingham's water polo team. The best game we had was when we competed against El Camino Real, scoring and winning 20-9.  Birmingham is tough and we demonstrated this through our victories this season.
The Patriots had a victorious season and that was all thanks to the water polo team working together and their coaches for training them to be the best. Some games were tough and exciting, and even though we competed against a variety of schools, we thank them all for playing and giving us a good game. This season was a great improvement over last season and we look forward to the team's further improvement and capturing a championship in the years to come.