Martin Luther King Jr.'s Civil Rights Legacy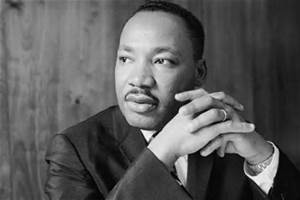 Martin Luther King Jr. was born January 15, 1929. He was an American baptist minister and became a leader in the African- American Civil Rights Movement. He led the 1955 Montgomery Bus Boycott and helped lead the Southern Christian Leadership Conference (SCLC) in 1957. King also helped organized the 1963 March on Washington, where the "I Have A Dream" speech was held on the steps of the Lincoln Memorial. It was there he had established his reputation as one of the greatest orators in American history.
King maintained a policy of not publicly endorsing a U.S. political party or candidate as the leader of the SCLC. Unfortunately, he had been betrayed by the Republican and Democratic parties around 1958. The Republicans betrayed him by capitulating the blatant hypocrisy of the northern reactionary right wing republicans. Although King never publicly supported a political party or candidate for president, in a letter to a civil rights supporter in October 1956, King said he was undecided as to whether he would vote for Adlai Stevenson or Dwight Eisenhower.  In 1964, King had urged his supporters to vote against Republican Senator Barry Goldwater for president. He believed it would be a tragedy.
On October 14,1964, King received the Noble Peace Prize for combating racial inequality through nonviolence. In 1965, he helped the Selma to Montgomery marches,and the movement north to Chicago to work on segregated housing. In the final years if his life, he expanded his focus to include poverty and spoke against the Vietnam war in his speech,"Beyond Vietnam." In 1968 King was planning a national occupation of Washington D.C. called the Poor People's Campaign, but he was assassinated on April 4 in Memphis, Tennessee. There was rioting in many U.S. cities following his death.
King was posthumously awarded the Presidential Medal of Freedom and the Congressional Gold Medal. Now we have a national holiday for him and numerous cities and states have streets that have been renamed in his honor.