BCCHS Girls' Soccer Wrap Up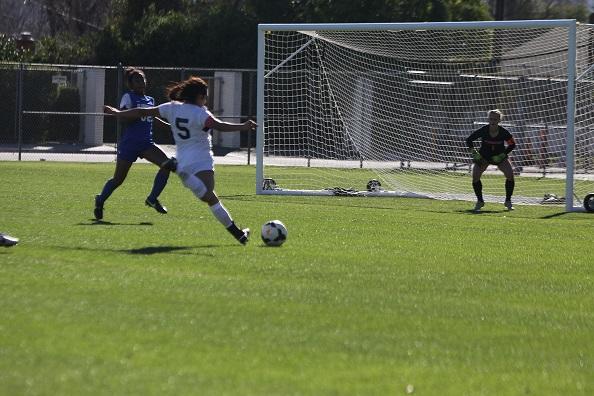 On January 29th, the Lady Patriots Varsity Soccer team came out victorious, vanquishing the imposing Lady Cavaliers of Cleveland, giving them their first loss in league play. This game was able to break a recent downturn that the girls have been having lately, a two-game losing streak. This current trend has summed up the season for ladies, one that has been full of ups and downs.
The season started off on a bad foot for the girls who were just simply outmatched against the Knights of Notre Dame, losing their opener 7-0. This tough loss seemed to have no effect on the lady Patriots who saw this loss as an opportunity to showcase their ability to be resilient; and resilience they showed, shutting out their next two opponents, Kennedy and San Fernando. What was even more impressive was the girls' margin of victory, combining for 9 points in the two games and shutting out both the Cougars and the Tigers. This feat is very unusual for soccer matches considering most are typically low scoring. After the first 3 matches, the girls were invited to play at a tournament hosted by LA Valley College, where unfortunately, the girls took two early losses. A close 1-0 loss against Hamilton and a complete blowout by Oxnard, but once again, the girls were able to bounce back. Playing in their last game of the tournament, the Patriots were able to dominate Garfield High with a huge 5-0 victory.
After the LAVC tournament, the girls were able to come home and take on San Pedro, where they weren't able to recover from an early Pirates' lead, losing the game 4-1. This loss began a major downturn in the girls' season, where they would go on to lose the next two games as well. A nail-biting 1-0 loss to Cleveland and another hair-raising loss to the Highlanders of Granada Hills, 2-1. Although once again, the ladies were able to recover, winning their next game 2-1 against Chatsworth at home. After this highlight, the lady Patriots went on another 2 game slide. Losing big to El Camino 4-1 away, the girls were determined to destroy their rivals, Taft, who are undefeated at home and only have 2 losses on the season. Unfortunately, the Patriots took a tough 1-0 loss to the Toreadors.
Now we are filled with anticipation as the lady Patriots look to take revenge on Granada Hills, this time away. With only 4 games left in the soccer season, the Patriots have the opportunity to go above .500 and finish with a positive record this season at 9-8 (currently 5-8). Perhaps the most exciting game has yet to come and that is the final one against bitter rival Taft, where we hope to finally crush our adversaries, the fierce Toreadors.