Riveting Revenant Review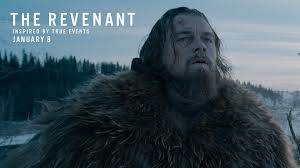 In what I would call one of the best movies of the decade, Leonardo DiCaprio stars in his most talented roles in his history of film. The Revenant is a sort of western thriller set in the 19th century west somewhere in South Dakota near the Missouri River. For this role, Leo definitely deserves to finally capture a golden statue for Best Actor. This is a cinematic masterpiece worthy of taking every award the Academy has to offer, from Best Cinematography to Best Supporting Actor for Tom Hardy, but it would be alright if they were able to take home just two for Best Picture and Best Actor. Now here are all the reasons why The Revenant should sweep the Academy Awards.
Although the events depicted in this movie are outrageous and hard to believe, it is actually based on a true story. In 1824, a man named Hugh Glass was hired by a fur trapping company to lead an expedition through the dangerous wilderness of North and South Dakota, one hidden with all sorts of dangers. With wild animals lurking in the trees and the menacing Arikara tribe hunting them down without warning, Glass was supposed to navigate this group of mountain men through the perilous mountains to safety to one of their secure bases. One day Hugh was sent out to hunt for dinner and came across an unwelcome visitor in a giant bear. There along the Missouri River, Hugh Glass was ripped to shreds and left to die, actually killing the bear in the process.  With the Arikara presence gaining on them the group's leader, played by Domhnall Gleeson, decided that they can't say and wait for Glass to recover so he decides to leave three men behind to wait on him, John Fitzgerald (played by Tom Hardy), Jim Bridger (played by Will Poulter) and Glass's son Hawk (who does not actually exist and is made up for cinematic effect.) After a few days and no recovery from Glass, Fitzgerald's fear of the wilderness gets the best of him and he decides to leave Glass behind to die, but first he must kill Hawk. He does and takes Glass' guns and supplies, storming off into the deadly cold with Bridger leaving Hugh behind, but still clinging to life.
Leonardo DiCaprio perfectly embodies this life or death struggle felt by Hugh Glass, so much so that the audience feels as if they are getting frostbitten themselves. The level of talent Leo displays in this film is superb, a great performance of this generation, and an example of this is shown in the extreme close-ups of his face. A good segment of this movie is just Leo's frozen face looking into the camera to really convey the emotions Glass was feeling at the time, and Leo was masterful at this and so believable in fact, that it seemed he was actually feeling the pain of this grueling journey. This feat is not easy to accomplish and could not be done by any ordinary actor, only one who is an expert of cinema like DiCaprio and without a doubt deserving of an Oscar for Best Actor. However, Leonardo was not the only one who had strong acting performances. The performances of Tom Hardy (as Fitzgerald) and Will Poulter (as Bridger) were also memorable. Tom Hardy's portrayal of the backstabbing traitor Fitzgerald is also worthy of an Academy Award, this time for Best Supporting Actor, because of the unquestioned evil persona he took on. Hardy exquisitely created a character everybody loves to hate and hate they did. The majority of movie-goers, like me wanted Fitzgerald to die from the start and this was accomplished through Hardy's great acting. A surprising performance was given by Will Poulter, who everybody associates as the awkward funny kid with the strange eyebrows from We're The Millers. In The Revenant he really displays his acting chops as the morally righteous kid to counteract against Hardy's self-absorbed sinfulness.
Even though, the acting in this movie is excellent, the directing and cinematography are even better. Mexican director Alejandro González Iñárritu makes another smash hit with The Revenant, after winning two Oscars last year for Best Picture and Best Director (Birdman). He also looked to create another artistic cinematic masterpiece and he has accomplished that. From the way the opening battle scene is shot with a sweeping camera gliding elegantly through the bloody battlefield, Iñárritu really places the audience members into the scene themselves. The cinematography was excellent as well, breaking up the intense action scenes with beautifully barren landscapes of iced-over forests. This aspect alone was perhaps one of my personal favorite parts of the film, the way everything looked was so crisp and clean. That could be attributed to the fact that Iñárritu wanted to only use natural light as much as possible, sacrificing cast and crew comfortably in the process, forcing them to get up at 4 in the morning to drive for hours in minus 20 below freezing conditions in the Canadian and Argentine Wilderness just to shoot a scene for 90 minutes. The work and dedication this director put into this project is outstanding and I for one would be appalled at the Academy if he doesn't win the Oscar for Best Director.
In conclusion, The Revenant is one of the best films of this generation and is deserving of every award the academy has to offer. Every aspect of this movie was on point including the amazing performances from all the cast and the impeccable directing of every scene. This movie should guarantee Leonardo DiCaprio his first Oscar, a feat he will be proud of, because this movie has already won multiple awards like Golden Globes and several Screen Actors Guild Awards, both of which are tremendous indicators of who will take home Academy Awards. The Oscars are on Sunday night at 5 pm and I would be very shocked and disappointed if this movie doesn't come away with any of the awards I have previously  mentioned. I cannot wait to see the show!