Up Close and Personal With Girls' Wrestling Athletes
There have been many great sports performances this past semester, and one team that has had an outstanding season is the BCCHS Girls' Wrestling Team. The wrestling team has been working hard to win matches, duels, and tournaments to uphold the school's honor and pride. They've recently placed first at the 2016 Los Angeles CIF City Championships.
Wrestling is a hardcore sport, and our lady patriots know how to dominate their opponents. Two of the lady patriots who have been striving to succeed this past season include freshman Veronica Machain and senior Marilyn Garcia.
When asked about what to keep in mind during wrestling, Machain shared what some of her inner thoughts are when entering a match. "What I usually keep in mind in a wrestling match is pretty simple… WIN!!!! What I do to physically prepare myself before a match is either jumping or walking around, or being in my stance. I tell myself that I'm going to win, so I have to make the first shot." Garcia also shared some of her thoughts and discussed the team's usual routine before a match or tournament . "I keep in mind respect for each contender, but at the same time, they want to take my dignity from me so I keep in mind that I am here to destroy anyone that attempts to take it from me. Before the start of the tournament, we huddle together laying down on our stomachs in a circle with our hands together. We say a prayer and some words of advice to our team."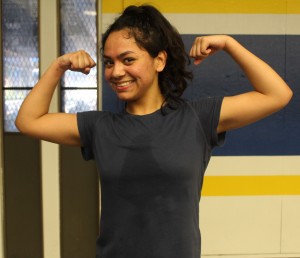 Both girls obviously enjoy winning each match, but with such a demanding sport like wrestling, it takes a lot of work. Garcia expressed her outlook on taking on the sport and how she reminds herself to keep pushing forward. "I find the challenge enjoyable of exhausting all your energy and strength to overpower an individual for that moment of victory. I like the tough mentality that comes with wrestling that 'nothing is too difficult or impossible.' The only thing holding anyone back is themselves. I like that wrestling has molded me to have grit in school and in the other aspects of my life."
Along with the joy of being in wrestling, there has also been some tough moments for these girls. Machain stated, " the most difficult moments I've had with wrestling are weigh-ins because I hate how I'm not able to eat or drink anything just to make weight, but I know after I weigh-in, I'm going to be able to stuff my face." Garcia explained her most difficult moments, "When I went to Nationals in the summer. I was told 3 days before I had to leave. I flew to Fargo, North Dakota alone. I was training with the top girls in California. I was getting beat up at practice but I was determined to prove myself. I knew this would be the toughest tournament I had ever been to so I trained to be the underdog. I went 2-2, one match away from becoming an All-American. However, I earned my place on their Varsity line up. In the team portion of the tournament, we won the National Championship."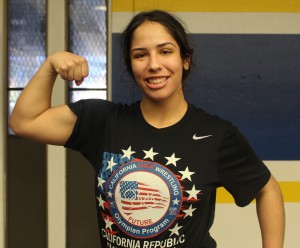 Wrestling also changed these girl's regular routines. Machain said "Wrestling has changed my life by making me eat a lot healthier and not only that, but making me physically and mentally stronger." As for Garcia, her lifestyle is very strict but very impressive. "My schedule now revolves around wrestling. I can't make plans without taking wrestling into consideration. I try to get as many hours of sleep as possible, but at times it gets difficult when I am getting home around 8:30 pm from school. I still have to eat, take a shower, pack up my clothes I need for tomorrow for practice and school, and on top of that, manage to do my homework for my 3 AP classes, while attempting to sleep early. I sacrifice my Saturdays for tournaments that last all day and Sundays doing extra training outside of school. I have very limited time for friends or family." So there you have it, just proves that the fabulous athletes of BCCHS are just utterly unbelievable  and amazing.
Machain believes that all the hard work and dedication is completely worth the pain and struggle when training, as she explained her favorite part of a match. "The best part about wrestling is getting your hand raised after a match." The two girls have been in this sport for quite a while, so when asked for personal advice for students that would like to join wrestling Machain replied, " Wrestling is not an easy sport. You actually have to put hard work and dedication. So when you join, think twice because you got to put in a lot of work and time." Garcia also had some words for future wrestlers. "For anyone joining wrestling, you don't have to be the strongest or the most athletic as long as you're willing to work hard to improve because that is the most important factor that contributes to how successful you'll be in the sport."
These girls have been so dedicated to wrestling, when asked if they would still continue wrestling next year, Machain said 'yes' with enthusiasm. Although Garcia was still deciding when asked ,she mentioned her potential plans for the future. "I am still deciding whether I want to compete at the collegiate level because most colleges do not offer wrestling for women. If I go to a college without wrestling, I would make a club at that college."
By conducting this interview, it just shows how hardworking the BCCHS athletes are. Perhaps this will give you a better outlook on how wrestling really is. And maybe, by some chance, one of the readers will be our next successor.